Thursday I got a call from my friend Adrianne asking if I wanted to come tomato picking. She was wanting something to do to get out of the house and said that I could join her if I could be ready to go right after lunch. So we headed out to a farm in Bradenton for a great deal on tomatoes… only $0.20 per pound! I saw them in the store yesterday for $2.99 per pound. Can you tell that I am just so thrilled with picking my own produce this year? It's just amazing to eat food that I saw growing out of the ground yesterday. It doesn't get any better than that!
I love to cook with tomatoes and thought it would be great if I could stock up while they are so cheap. I do not believe that the tomato plants were very happy to be growing in hot Florida. They looked more than a little sad so we had to search a bit to find the good ones that were hiding. Farmer Amelia (Adrianne's 8 month old daughter) was less than thrilled to be out picking tomatoes so we didn't stay too long. But it's just as well because it was really hot and I still came away with more than enough for what I wanted. I got all of these tomatoes for only $2!!
I sliced up a couple fresh tomatoes for us to have with our dinner. I dressed them THE best way with a little vinegar, sugar, salt, and pepper. It's the perfect mixture of tangy, salty, sweet. You've got to try them this way.
I decided that today would be my tomato prep day. I helped Grandma Sipes can tomatoes once when we were visiting them, so I was feeling brave enough to give it a try. I'm freezing mine instead of canning, but the process looks pretty much the same. The hard part was figuring out the correct timing in the boiling water for the skins to come off without making the tomato too mushy. I got better after a few tries.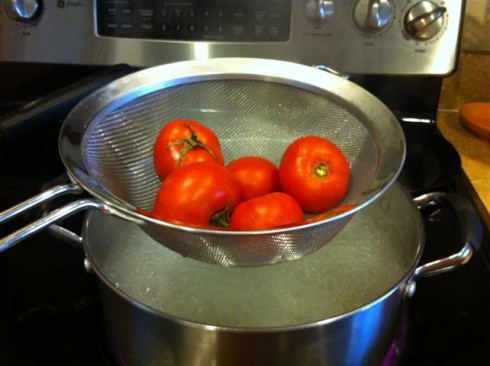 Then I peeled them and cut out the stems. The freezing instructions said to squeeze out most of the juice and seeds. That was the most time consuming part. Then I portioned my diced tomatoes into cups. I'm used to using canned tomatoes in most recipes so I wanted my freezer bags to hold the same amount.
The disappointment came when I saw how much I ended up with after so much work. I boiled, skinned, sliced and diced a whole grocery bag of tomatoes to come away with… three little freezer bags. Now, I knew that it would make less than I was expecting, but even with that thinking it still made even less than I thought. I'll be going back for round two after lunch. Hopefully it will go a little quicker now that I have a system.
So far I've only sustained one injury, I sliced into my pinky finger while peeling the skins. Ouch! These tomatoes had better be good after all this effort.