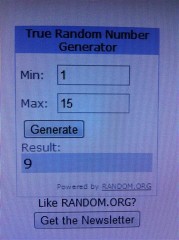 Thanks so much to everyone who participated in my first giveaway! I loved reading all the reasons why your husbands rock.
And the winner is… April!
April says: "My husband rocks because he works so hard to support our family, and is such a wonderful dad to our children, and because he is kind and loving, and makes me laugh! Thanks for this great giveaway opportunity."
Congratulations April, your $25 gift certificate will be on its way shortly.
For those who didn't win, you can still shop for something special for you and your spouse. Visit the Union28 website and get 15% off your order for the rest of the month of October. Be sure to use coupon code U28KPB15 to get your discount.