**This giveaway has now ended. Winner announced here.**
I'm so excited to share with you about Union28 marriage apparel. I came across this company and thought that their designs are so cute, and I loved what the company stands for. Their mission is "to encourage marriages and to honor the sacred covenant between a husband and his wife by communicating a positive image of marriage in a fun and stylish way."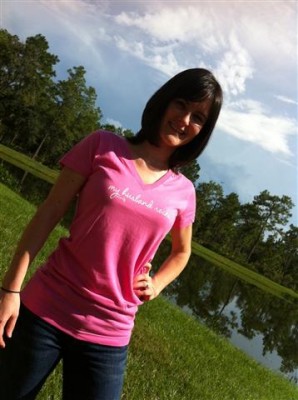 Union28 sent me this awesome shirt to wear stating that My Husband Rocks! I think their clothing is a great way to show your love and commitment to your spouse.
My husband rocks because he always has a positive and upbeat attitude no matter what our situation is. He works very hard and runs his business in a way that showcases his talents, keeps his clients happy, and supports our family. He rocks!
On October 21, Jesse and I will celebrate our 5th wedding anniversary! It's hard to believe that our wedding was really 5 whole years ago. I remember it like it just happened. It was the perfect day and I wouldn't change a thing about it.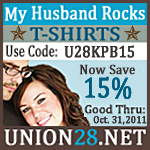 So… for the entire month of October Union28 is offering 15% off your purchase price to any of my readers who use coupon code U28KPB15. Head on over to the Union28 website to decide which item is your favorite. Pick out something for yourself, and something for your spouse to wear too. Or choose one of their coordinating couple designs. Hurry, this offer expires on October 31!
And to one lucky winner, Union28 is giving away a $25 gift certificate! Here's how to enter for two chances to win:
1. Leave a comment telling me why your husband/wife rocks. (mandatory entry)
2. Share a link to this giveaway through Facebook or Twitter, and leave a second comment letting me know that you did so. (optional entry)
One winner will be randomly chosen from the comments and your gift certificate will be sent via e-mail to you directly from Union28. All entries must be submitted by midnight on Friday, October 7th. The winner will be announced on Monday, October 10th. Good luck!