Yesterday I went blueberry picking with a group of friends from church. This was my first time picking blueberries. We were instructed by the farmer to eat as many as we wanted while picking. I ate enough that I didn't need much lunch when I got home, they were tasty.
Nicole looked like a professional when she strapped on my bucket to help me finish filling it. Those blueberry bushes were making my eyes burn and water like crazy, not to mention making my nose run. I think the combination of eating lots of berries while being out in the field breathing blueberries was what sent my allergies over the top. It was still fun though, and we all enjoyed the "fruits" of our labor.
Later that night (after a benadryl induced nap) I got to work preparing all my blueberries. First on my list to make was blueberry ice cream.
I also made blueberry popsicles, and then froze lots of blueberries for future ice cream. We also have lots left to just eat fresh. We love blueberries!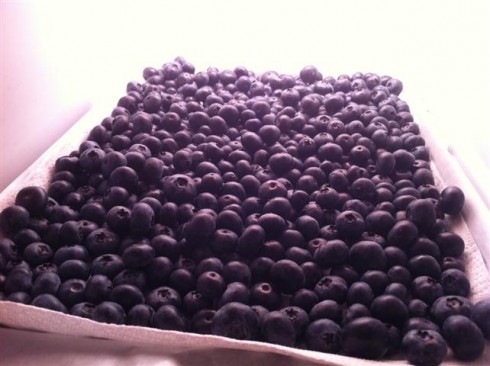 We tried out the blueberry ice cream after lunch today. It was really good, but not quite as good as the strawberry ice cream.  However, since I already had the blender out yesterday, I also went ahead and made some strawberry ice cream too. I used some of the frozen strawberries that I picked last month.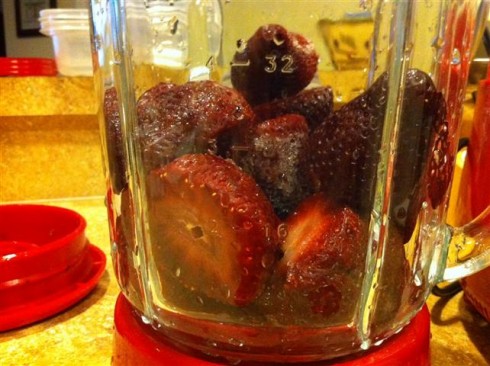 I like to mix with Fage plain yogurt because it has no extra ingredients, but the recipe suggests using strawberry (or whatever flavor ice cream you're making) to add extra flavor.
Then add some water, sugar, and blend until desired chunkiness and allow to freeze. When you want to eat some, it needs to sit out for about 20 minutes before you can scoop it because it freezes pretty solid. It's actually more like a sherbet, but it's as close to ice cream as I can have… so yummy!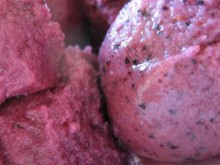 Here is the recipe to try:
1 lb. berries
4-6 oz. yogurt
2 tbsp. sugar (or to taste)
2 tbsp. water
Enjoy!