I was invited to go strawberry picking with a couple of friends yesterday.  I've never been strawberry picking before so I was definitely up for the experience.  I tried to get Jesse to come along with me, but he was not-so-much interested.  He grew up near farmland so he had lots of practice picking all types of produce.  However I did not and find the fact that I can eat food that I picked myself fascinating and exciting.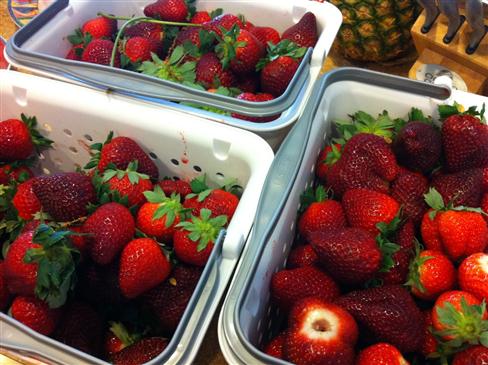 We had fun and came home with lots and lots and LOTS of strawberries.  The first thing I did when I got home was to eat a nice big bowl of fresh cut strawberries.  When I buy them from the store they cost a lot more and there is a small amount so I usually try to make them last for a couple of breakfasts.  Both yesterday and today there was no limit.  I ate strawberries until I was full.  I think I might turn in to a strawberry.
I also froze a bunch of them to make strawberry sherbet, which I've never made before so I can't wait to see how that turns out.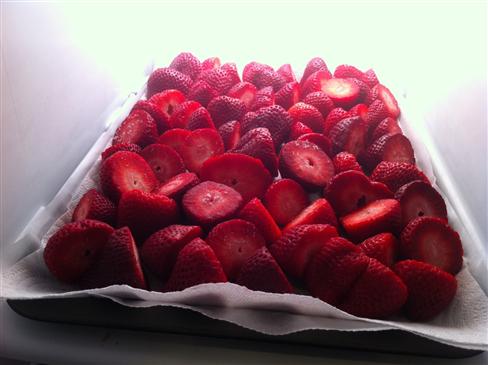 Then I mashed some and added some sugar and water to make strawberry popsicles.  We haven't tried one yet, but I did try a spoonful of my popsicle mix before I froze it and it tasted really yummy.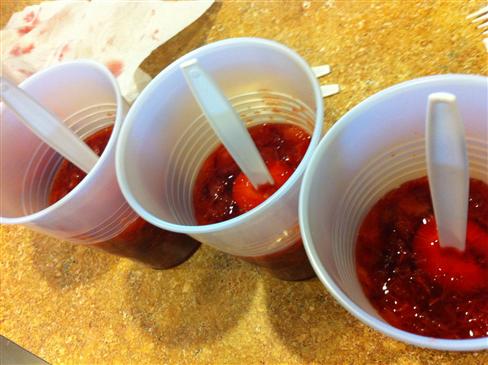 I gave some of them away, and we still have lots left to eat.  They are huge and super juicy and there are no bad ones hiding like the packages that come from the store.  I will definitely be doing this again. Next month will be time for blueberry picking.  I've never been blueberry picking either so I will be looking forward to that for sure!