I've only had venison a handful of times, and I had never prepared it myself. So I turned to a friend with more experience in cooking with venison… who gave me some great suggestions for how to prepare it. I haven't always been too fond of stews, but this was so very good. This could easily be a beef stew as well, but I think the venison flavor made it even better.
This venison happened to come from an extra special source. While we were at Grandpa and Grandma's farm last fall we got a chance to meet one of the hunters who hunts on their property. After getting to know him a little bit, we found out that he considers Jesse's grandparents like his own… and he said that he would be more than happy to share some of his catch with us. He came back a couple of days later with a variety of cuts for us to enjoy. How's that for getting our food directly from the source? So cool! Someday I'd like to live somewhere that we can hunt and grow our own food.
Anyway… back to the recipe. I made this stew using the venison chunks.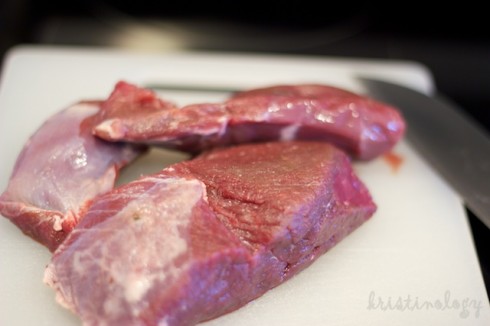 Cut the meat up into small cubes and place in crock pot. Mix together flour (I used arrowroot), salt and pepper; pour over meat pieces and toss to coat evenly.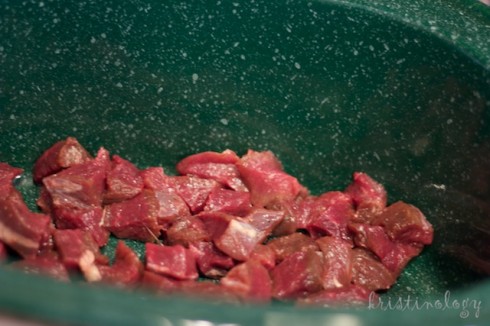 Then chop up all the veggies and add them to the crock pot.
Add the beef broth and other seasonings and stir to mix well. Cover and cook on low for 8 to 10 hours or on high for 4 to 6 or until done. Stir as necessary. That's it!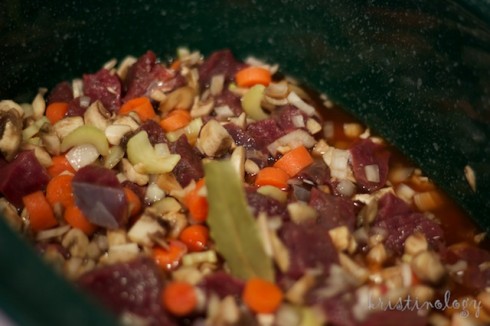 I made mashed potatoes to serve the stew over instead of adding them to cook with the stew. And the flavorful gravy that this stew made was the perfect addition.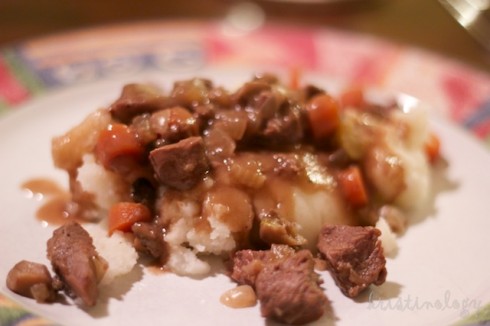 Here's the recipe:
1 1/2 – 2 lbs. stew meat, cut into 1 inch cubes
1/8 cup flour
1/2 tsp salt
1/2 tsp pepper
1 1/2 cups beef broth
1 tsp worchestershire sauce
1 clove garlic, minced
1 bay leaf
1 tsp paprika
package mushrooms
2 medium carrots, sliced
2 medium potatoes, peeled and diced
1 small white onion, diced
1 stalk celery, sliced
Enjoy!