I love to read! Even though I have much less time to read now than I used to, I still love to read. When we were kids Mom used to make us complete an hour of reading each day of summer break before we were able to do anything else. She thought we needed something to keep our minds alive between times of what she called "brain-dead excitement" or endless hours of television. I really don't think we spent that much time watching TV, except on days when it was over one hundred degrees outside so there wasn't much else to do.
At first it seemed like some sort of cruel punishment to make us read during our summer break, but then I grew to enjoy it. During college I had absolutely no time for reading anything other than my text books. Then I got a job where I often had so much free time that my boss urged me to bring books or magazines to keep myself busy during the day. While I was at that job I always had mixed feelings about working there since I knew I wasn't making much use of my skills. But it really wasn't a bad gig since I was able to fly through the books. I would often finish a book and take my lunch break to go to the bookstore to pick up the next one. Miss that job!
Anyways I have decided to reinstate reading time into my daily schedule. Last week I wrote myself a new schedule to try to keep my day a little more organized. The plan is to spend half an hour reading right after lunch to help break up my day. The plan seems to be working well so far. Today I finished reading Sunset by Karen Kingsbury. Kingsbury is easily my favorite fiction author. This was book fourteen, the last of a long series. I'm kind of disappointed that the series is now over since I've been reading about the Baxter family for so long now.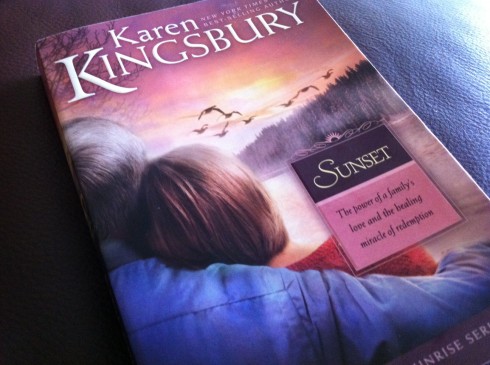 The book I'm starting next is a reading assignment from the future Dr. Reilly. Sometimes I get a little jealous of the fascinating stuff she gets to learn about Psychology. I'd love to learn all about that stuff… only without all the work that goes along with the classes! I enjoyed the Psychology class I took in college and she thought I might enjoy reading more. The book is called Psychoanalytic Object Relations Therapy. Sounds intense! Supposedly it's some basic, beginning ideas. I'll let you know how it goes.