Weekends are kinda funny around our house. Since we both work from home now, weekends often tend to be not much different from week days. Some of Jesse's clients work regular jobs so it works best for them to do consulting calls on the weekends when they are off from work. So sometimes he is busy on weekends and we take time off during the week instead.
This weekend Jesse was free. We made a fun and full weekend out of it. Saturday, after sleeping in, we had a shopping date. My shopping destination of choice? Goodwill, of course. The idea of shopping at thrift store used to be so unappealing to me. I fought the idea for many years until I finally let my sister drag me into the world of thrift store shopping. I had no idea what I was missing out on! On my last Goodwill trip I bought two pairs of jeans, one from Express, and a cute Ann Taylor Loft tank top. All of it was barely worn and looked brand new. This trip I scored a skirt and a couple cute tops. Two of them were off the $2 rack. I wish I had converted sooner. I hate thinking about how much I used to spend on mall shopping trips.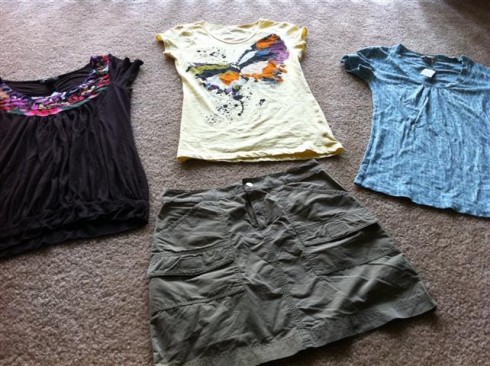 My other fabulous find was dishes that match our set. We bought our dishes after the design had been discontinued, which gave us a great bargain. However, it meant that we didn't get to see all the serving dishes and such that matched. We bought the box sets before we were married that included dinner plates, small plates, bowls, and mugs. Goodwill had matching cereal bowls which we had to buy. Plus a serving platter that looks just like our dinner plates, only bigger. We got each of these pieces for $1.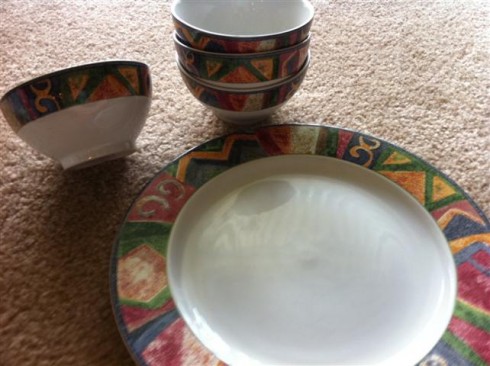 Then we headed to Jesse's shopping destination… Ikea. We just wanted to stroll around and get some decorating ideas. It's always fun to imagine what those rooms would look like in our house. Our favorite is all the bookcases they have, the floor-to-ceiling wrap-around-the-room bookcases. It looks nice in their living rooms, but I'm not sure how it would look in ours. Jesse was also looking forward to stopping at the food court on the way out. He loves their carbonated pear juice and he got a hot dog too. I even found a nice decorative plate for $5.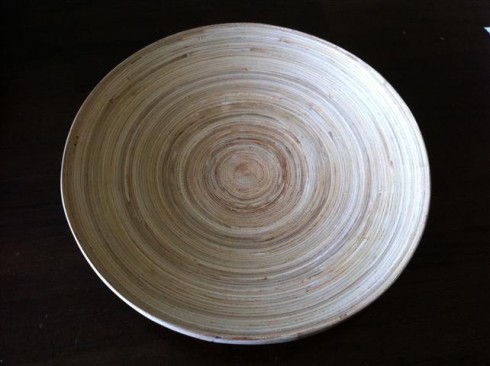 I got these decorative balls for my birthday, but hadn't yet found the perfect dish to put them in. They were in a basket that I usually use to for serving chips. I think this looks much better.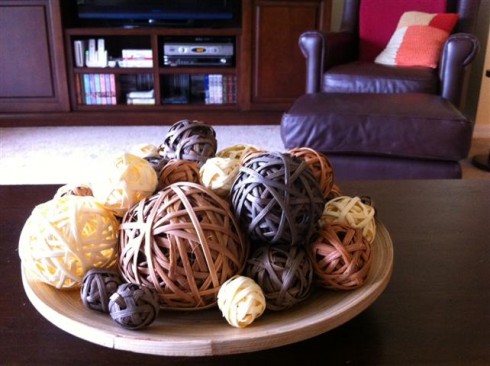 We spent Sunday hanging out with Dad for Father's day. Dad always likes to watch golf on Father's day. I tend to find watching golf a little boring, but it's hard to argue with what Dad wants to do on Father's day. So we watched him watching golf. Then some of us fell asleep. Then we woke up and found other activities to keep us busy.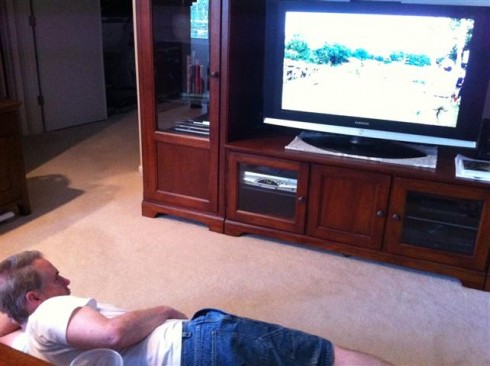 For Father's day I baked Dad cupcakes. My original idea for the cupcakes was to draw all different things that reminded me of Dad such as golf clubs, airplanes, hockey sticks, and Math problems. Then I remembered that I don't have enough artistic ability to draw an airplane on a cupcake. Rather than have to identify each of my drawings, I decided to go for just the Math problems since Dad is a mathematician.
I made red velvet cupcakes, just to be different. They were very messy to make. My whole kitchen was red. I'm not sure I'm choose that flavor again.
I had consulted with my brother earlier in the week, who is studying advanced Math in college right now. I asked him to draw me a few of his favorite Math symbols or expressions. Isn't that kind of a funny request, to have favorite Math expressions? Apparently not, his reply was just what I was looking for.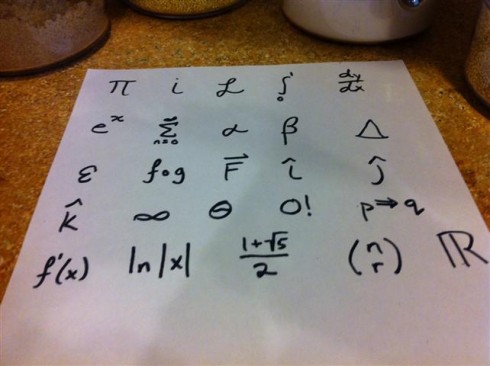 I had two more symbols than I had cupcakes, since I had to draw these in icing I chose the two most complicated ones to exclude.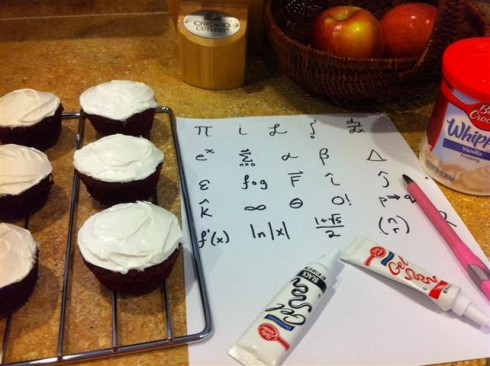 I think the end result was just geeky enough for Dad. However it did make it a little difficult to decide which cupcake to eat. And they afforded us the pleasure of Math jokes all evening. According to Andrew the one with the symbol for the set of all real numbers was extra filling because it contained all the numbers. Mom tested the one with the infinity symbol on in to see if it would grow back as she ate it, making it last forever. They were lots of fun, maybe you should make Math cupcakes for your next gathering!