Thursday will be our four-year wedding anniversary! As we remember our fabulous day, I thought I would share some of our wedding memories with you. This is part one of my wedding memories.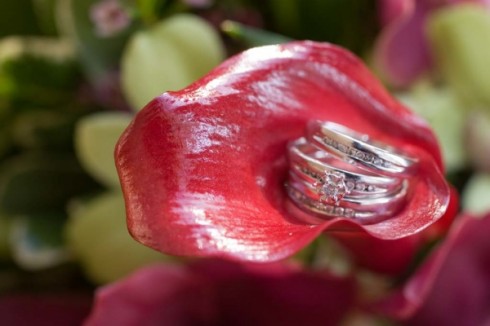 I really wasn't someone who always thought about how my wedding would be. Honestly, I really had no idea where to start. We are so lucky that we had my mom and dad to do the planning with us. All of the special details came out great because of all planning they did to make it all work out for us.
The first and most exciting thing on my mind was finding a dress. The Saturday after we got engaged Mom and I went to start looking at dresses. Other than a white dress, I really didn't know what kind of dress I was looking for. The lady at the dress shop starting pulling a variety to get an idea of what I liked. I remember her saying that I should try a dress with rouching because it was very flattering on many people. It really didn't appeal to me and I didn't think we should even bother trying it.
That dress happened to be the first one I tried on, and I LOVED it! It fit me so perfectly and I just knew that was the dress I wanted to get married in. I wanted to try on some more dresses just to be sure. After trying some others, we left with the first dress. We had no idea we would find one that day and I can't believe it was the first one I tried. No other clothes shopping trip has ever been that easy.
Before we left, we also bought a tiara for my hair and a veil with sparkly stones sewn into it. I later found some comfy shoes… I was not wearing heals when my dress touched the floor.
And I love how my hair turned out. I had it done at a salon with a practice session a week or so before the wedding. Whenever I look back at our wedding pictures, I'm still so happy with how everything came together.