I've mentioned that we were lucky to be able to leave the farm with lots of fresh produce to bring home and enjoy. We have been eating very healthily as I come up with creative ways to use up everything we were given. The other night we had two new vegetables that I had not cooked or eaten before. We enjoyed both of them.
I was really looking forward to trying my first butternut squash and I was not disappointed. I have three squash so I found three recipes that I want to make with them. Jesse had his mind set that he did not like butternut squash so I was extra determined to find a recipe that he would enjoy… and I did. I win!!
I started by cutting the squash in half lengthwise and scooping out the seeds. Then I peeled off the skin.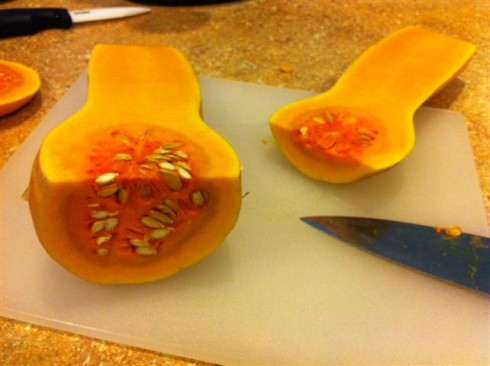 I cut each half into small cubes and tossed them in olive oil.
Then I spread them out on a cookie sheet. In retrospect, it would have been much better to use a dish to cook them in. I thought the cookie sheet would leave them farther apart to help them get crispier, but they were quite juicy and leaked onto the bottom of my oven.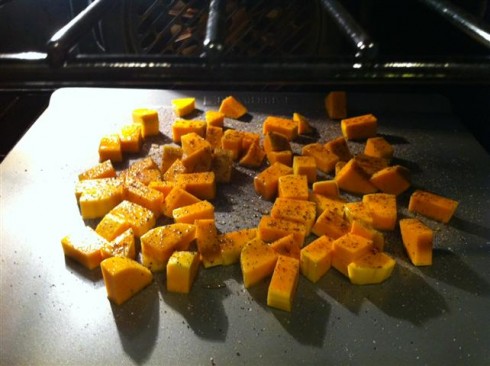 I drizzled just a tad of honey and sprinkled salt, pepper, garlic powder, and a little chili powder on top. They cooked at 375 for about 25 minutes.
They were delicious! It tasted very similar to when I make roasted potatoes, you almost couldn't tell it was squash if not for the color. It was very tasty and I can't wait to try my other squash recipes.
I also had a turnip to figure out how to use. I had tried a piece raw before we left the farm so I thought we should try it cooked too. I boiled it until it was soft and mashed it. Then I cooked some carrots and green onions in olive oil and stirred in the mashed turnip. It's kinda funny if you can imagine Jesse and I sharing one turnip… but it was enough to give us a taste. It was fine, tasted pretty much the same as mashed potatoes. We ate and enjoyed it, but I don't feel the need to have turnips again any time soon.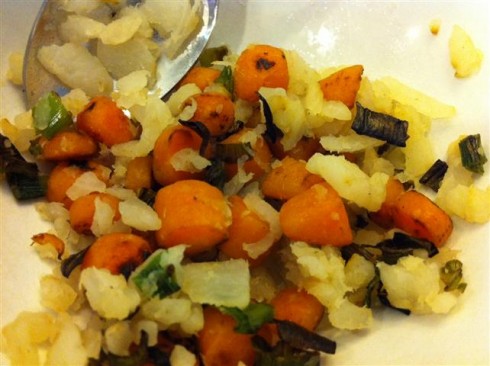 Those are my veggie tales for this week. Any favorite recipes that I need to make with my remaining squash?