Today we did the tourist thing and drove around seeing some of the famous California sites. First we drove through some of downtown Los Angeles for a view of the Nokia theatre. They were still cleaning up from the American Idol finale last night. Across the street is the Staples Center, where the Lakers play.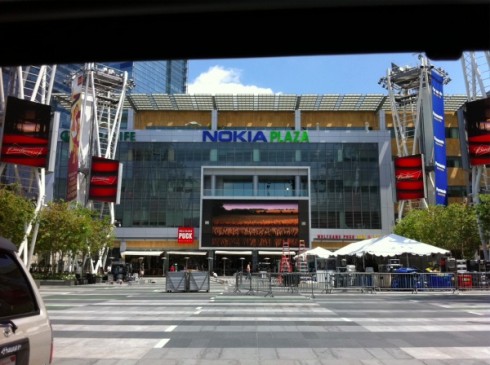 Then we drove to Rodeo Drive. We drove down the street and back admiring all the fancy shops and fancy cars. We did a quick drive through Beverly Hills on our way to lunch. After lunch we drove through Hollywood and got to see the big letters on the side of the mountain. That was pretty fun. We all got pretty excited when we first saw the letters, Dad thought something bad had happened in the back of the van. We all annoyed the locals by getting out and standing in the middle of the road to get a good picture.
We kept driving up the mountain to Griffith Observatory. There was great views from up there. The weather was so absolutely perfect again. It is exactly the right temperature and there is always a constant breeze, with no humidity. I so miss this weather! We're all getting a little sunburn since you don't even realize that you're hot.
The part I don't remember about living here is how much traffic there is all the time. It takes forever to get anywhere. Even though we were out in the middle of the day on a weekday, the freeway is still completely jammed. There is just so many people.
We were also able to swing by Ashley's apartment to see how she lives. We've seen lots of pictures, but I was imagining the whole floor plan wrong. It's nice to finally see it in person. She and her roomies have a great set up that's all nicely decorated. It's a cozy apartment!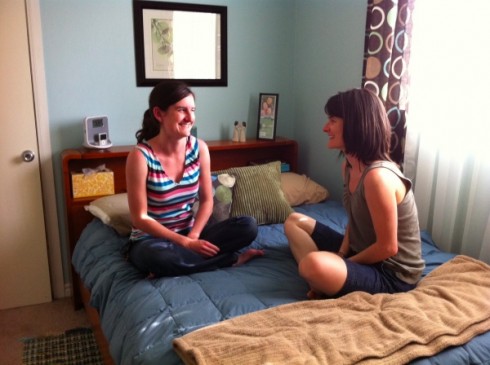 The day ended with playing games while eating snacks until we were all too tired to concentrate on the game anymore. I love when we are all able to spend fun times together like this.