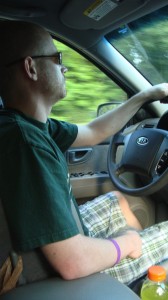 Today is day one of vacation.  We left our house this morning at 6:37 am (only 7 minutes behind schedule – YAY).  We are headed to Tennessee for a family vacation with my family.  The rest of the family is driving separately because we couldn't all fit in one car.  We had to tote some of the stuff for the rest of the family which left us with a very full car load.  It took quite a bit of rearranging before we could get it all to fit.  Good thing we packed up most of it the night before, or else that would have been a problem.  When I planned it out in my head things fit a lot easier.  I thought we would have tons of space in the new car, but once the things were in there the space got a lot smaller.
Since we left so early, we beat the rest of the family there by a little more than an hour.  So we found a nearby park and took a walk.  It was nice be outside after a full day of sitting in the car, but it was sooo hot!  There were no kids on the playground because everything was too hot to touch.  But we did swing for a while to catch a little breeze.
We made it to our destination for the night,  Atlanta.  We went to our favorite restaurant, Pappasito's, that we always eat at when we stop here.  They have really good Mexican food.  We got one big sampler platter to share.  It was so good.