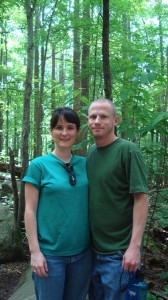 Today we decided that we wanted to go hiking. According to the website it was a short drive down the road to where the trail should begin. So we parked the car and began walking to find the entrance. After walking clear through town in feels like temperature over 100 degrees, we still couldn't find anywhere to hike. So, most of us ducked into some air conditioning while Dad went to bring the car. We were all pretty disappointed that we didn't get to hike, and at this point were now too tired of walking if we could find where to hike.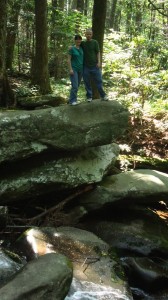 After we all piled back into the car, Dad continued driving to find some hiking. We found a path that we could drive up the mountain. Now that's my kind of hiking! We got all of the scenery with none of the work. When we got to the top there was a place to park and we got out and were finally able to do our hiking. We wandered down the path a little ways a found a creek we could play in. It wasn't quite as good as the waterfall we were supposed to find, but better than nothing. We balanced our way over the rocks in the creek, avoided poison ivy, and made our way through the trees back to the car. It was short, but we all agreed that our hiking requirement had been met.
We drove back to the cabin for a spaghetti dinner followed by a movie on the big theater screen. We lounged around and then went for a soak in the jacuzzi.