The weather has been absolutely beautiful around here the last few days. We've enjoyed sitting outside on our patio and other outdoor activities after being locked inside for so long during the freezing temperatures. We even sneaked out to the pool after lunch on Monday to soak up some sunshine. However, with beautiful weather comes increased allergies. Boooo!!!
I've been feeling kinda yucky that last couple of days. I'm already having itchy eyes and nose and it's only February. I started looking into some more ways to relieve allergy symptoms so that I don't have to just be miserable for the next six months. For the most part, I think I'm pretty much out of luck. The only thing that I've found that might help some is the rotation diet. I've kinda been trying to do this already, but maybe I need to be more intentional about it. The basic theory is that your body isn't very well able to handle too much of any one thing. If you rotate foods and food groups you might be able to better handle foods that normally bother you. It is supposed to help with environmental allergies too. We'll see if it helps.  It may sound crazy, but I'm willing to try for the sake of not having another year like last year.
The goal is to never have any food more than once in a four day period. As if I needed to make meal planning more complicated, now I have even more to keep track of. The part I'm most excited about is trying new grains and non-grain alternatives. I really miss being able to eat pasta and breads. Maybe some of these new foods will help me to miss those foods less. I drove all the way across town to check out Nutrition S'mart and they had an entire non-wheat section. Then last night I discovered they have another store right by our house. We drive past it all the time and I never noticed it until now.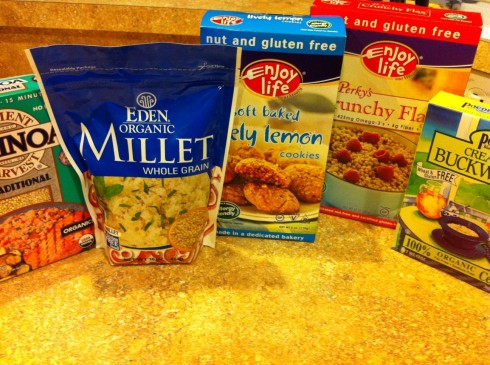 The other exciting part is trying some new meats that we've never had before. Since we will try not to repeat anything for four days, we are definitely going to need to add more protein choices. Jesse and I made a trip to Land and Sea this morning to see what new things they might have for us. We left with ground bison, lamb shanks, and rabbit. Jesse has tried some of these, but I've never had any of them. Time to search for some cooking instructions!
Anyone have any recipes for any of our new items?? I'd love to hear them!