When I was younger, my rollerblades were practically glued to my feet. During the summers my sister, brother, and I would rollerblade/bike up to the lake and back almost daily. I don't quite have the hours now that I used to spend outside, but I'm happy that we've managed to make time in our schedule to rollerblade again.
It was a couple of months ago now that I all-of-a-sudden had the urge to rollerblade again. I was excited to strap my rollerblades on only to find out that it had been so long since I had used them that the wheels had completely dried out and disintegrated. Literally… they were dust, all the way down to the bearings. So we went and purchased some replacements wheels.
By that time the urge had passed and the replacement wheels sat, unopened, next to my blades for a few more months. A couple of weeks ago I decided to finally put the wheels on and use them, only to find out that the fastening straps on my blades had become too brittle and had fallen apart. I guess maybe it's been longer than I thought since I had used them. So, we decided to take the plunge and buy completely new rollerblades. I had forgotten how much fun rollerblading is!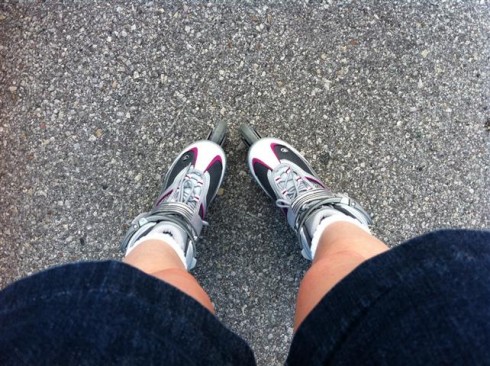 Part of Jesse's new treatment routine includes walking each morning. His CF team has recommended this for him every time we go to clinic, and he's finally determined to give it a try. We're hoping that "flexing" his lungs will help improve his lung function and increase his next PFT score. He has faithfully walked each morning for the last two weeks… improving his time and distance each day. And I've committed to tagging along with him. Walking doesn't really require me to push myself too hard, with my normal lung function. So instead, I rollerblade around the neighborhood while he walks on Mondays, Wednesdays, and Fridays, and walk/run with him on Tuesdays and Thursdays. It's been a great way to start our day and spend some time together.