I made this for dinner last night and it was so, so good. This is something Mom used to make often, but I had totally forgotten about it. When I found it hiding in my recipe box I couldn't wait to make it because I knew Jesse would love it. Plus I always love yummy ground beef recipes because they are super cheap. The best part is that it needed no adjustments for allergies… all fresh ingredients! This one will be added to our regulars list for sure.
1 lb. ground beef
1 medium onion
2 garlic cloves
1 tbsp chili powder
1/4 tsp cumin
1/4 tsp oregano
1/4 tsp salt
1/4 tsp red pepper flakes
1 tbsp olive oil
1 can diced tomatoes
1 green pepper, diced
4 un-peeled potatoes, sliced
shredded cheddar cheese
green onions for garnish
Cook beef, onion, and garlic. Drain. Add spices and tomatoes and simmer for 20 minutes. Stir in green peppers. In a 9 x 13 dish, spread potatoes evenly and brush with olive oil.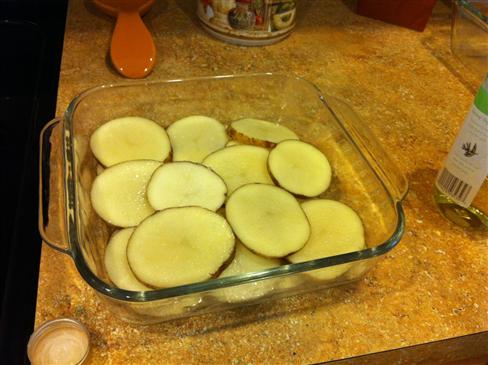 Spoon meat mixture on top. Cover with foil and bake at 350 for about 45 minutes, or until potatoes are tender. Top with cheddar cheese and garnish with green onions.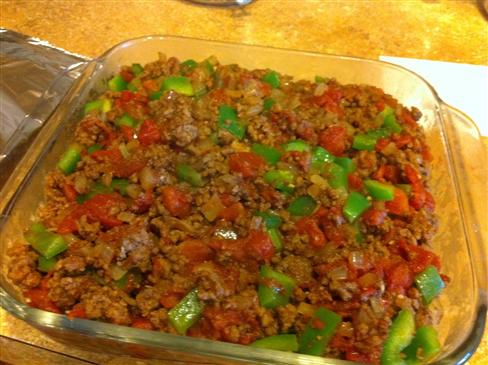 As you can see I made a smaller dish since it was just the two of us, but I could have made a larger dish because we barely had any leftovers. I topped Jesse's side with extra cheese for added calories and fat. I meant to take a picture of the final product, but we were really hungry and it smelled really good so I totally forgot.