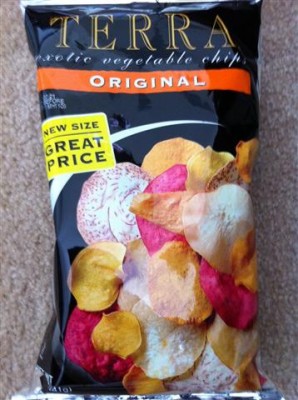 I've discovered Terra Chips, another allergy friendly snack. It's really hard to find any potato chips that I can have. I haven't eaten chips in months, ever since my food allergy (wheat, soy, and corn) diagnosis. I stumbled across this brand at the health food store yesterday, I can't believe I didn't notice them sooner.
I bought the original flavor to try first. This flavor has "a seasonal mix of root vegetables" including sweet potato, parsnip, batata, taro, and yuca. I had to do some research to find out what a couple of those are. They taste great. They are so similar to regular potato chips only each one tastes a little different because they are all different roots. And they really are as colorful as they look on the package, which makes them even more fun to eat.
I'll have to be careful in trying out some of the other flavors because I noticed that some flavorings did contain wheat and soy. But overall they are a great find at a reasonable price, in comparison to other health food store snacks. They were $3.39, not too bad. Looking forward to eating more of these in the future.