I was inspired by my bloggy friend Rachel to give some much-needed attention to my spice cabinet. She's participating in The 52 Week Organized Home Challenge, and this week happens to include organizing spices. Now that I love to cook all the time, that little corner of our home gets a lot more use than it ever did before. And it just seems like whatever I need to use is always buried at the very back of the cabinet… frustrating.
So, my goal was just to plan out a better layout for that one cabinet. The last couple weeks of the challenge had included all the kitchen cabinets and drawers. I had decided that mine were fine and I could skip that week. However, once I got started on one cabinet it was hard to resist a couple more changes to make the rest of the cabinets better organized as well. Pretty soon I had the contents of most all of my cabinets spread around the kitchen. I can't help it that I trick myself into getting stuck in these projects… I don't know how it happens. It's just as well, my cabinets flow so much better now. I don't have to take out seven items to get to the pot I need to use or get the step stool to get things form the high shelf to make dinner. So much better! (I didn't take any pictures of that part since it kinda happened accidentally.)
I finally decided to get rid of our spice rack. We bought it (or it may have been a wedding gift) when we first got married. Many of the spices were empty, some of the weird ones I didn't know what do with were still sealed, and only about two of them were still in use. I had been intending to buy new spices to refill the empty ones with but it's always a better deal to buy a larger container which wouldn't fit in the spice rack containers. Anyway… I bought this nifty turn-table to take it's place on the counter.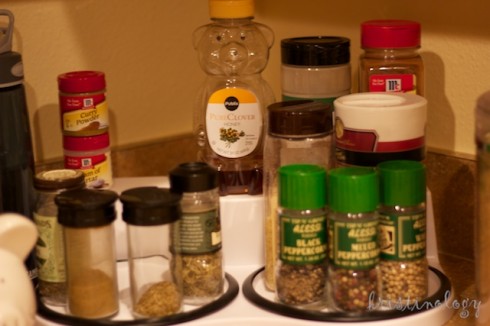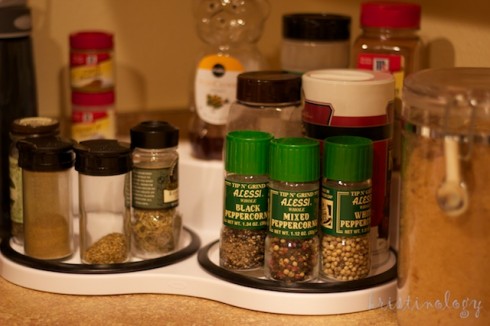 It's got two small turning sections and a taller shelf in the back. I can keep my most used spices on the counter top, like they were in the spice rack… only they're easier to get to since the turn-tables are smaller. Spices don't get lost being stuck in the middle. I kept my old turntable in the cabinet, but it's got a lot more space open on it. And I made a list of all the spices I'm out of that need to be replaced. I've been procrastinating buying spices since they can really add up on the grocery bill. I often find myself looking for something to substitute for a missing spice, but then I forget what I was out of once I'm at the store. That problem will soon be fixed and a full spice selection will fill in the extra spaces.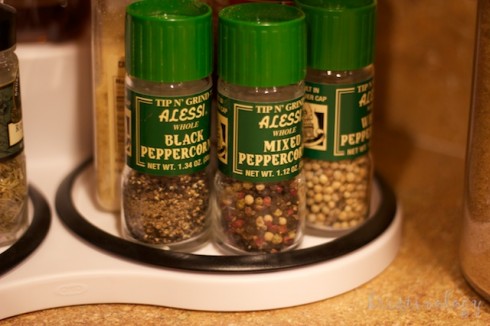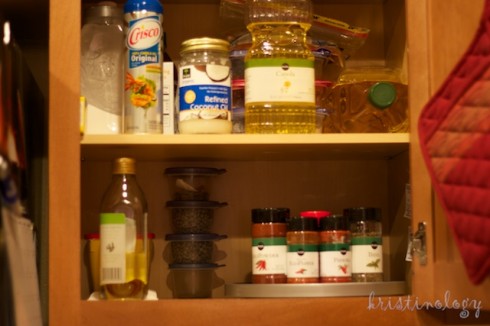 See, so much prettier and nothing is hiding or buried in the back!