Early yesterday morning, Jesse and I headed across the state for take two of trying to view the shuttle launch.  If you remember, I had gone to the first scheduled launch which was a no-go so we were really hoping for a better outcome this time.  We were not disappointed!
Our friends, Kevin and Julie, met us at our house around 11:45 Sunday night and we were on the road just after midnight (I wasn't kidding about early morning).  We got to our prime location around 2:30 in the morning and there were already plenty of people staking out their territory.  Many people had their tents and campers set up along the sides of the road.  We parked the car and walked around deciding exactly where we were going to set up our "camp," then went back to the car to unload.
It was awesome to get there while it was still so dark because we could see the launch site all lit up.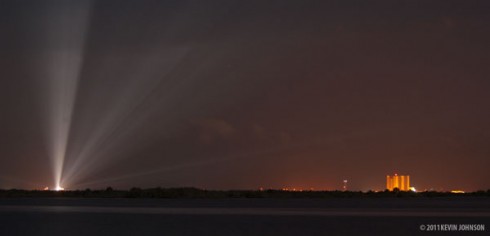 Let me just tell you that although it was totally worth it to ensure a great view, sleeping on a cement block under a bridge is something I don't feel like I need to experience more than once.  I appreciated my bed a little extra last night.  It was pretty chilly and very breezy right at the edge of the water.  I don't think I slept more than a few minutes here or there despite my wearing several layers and several blankets.  I'm not a very outdoorsy type person, just in case you couldn't tell that.
Around 6:00 Monday morning we "woke up" to enjoy the sunrise.  It was absolutely beautiful to watch the sun peaking through the clouds while we ate breakfast.  Watching the shimmeries over the water as the sun got warmer was amazing!  We even saw a dolphin playing out in the water in front of us.
On a side note, I thought that spending the night outside would be a nightmare for my allergies.  Turns out that all the salty, sea air did wonders on my sinuses.  As we were sitting there I realized that I was breathing better than I have been in over a week.
The excitement was building as the launch grew closer, I thought Jesse was going to explode with the anticipation.  Someone nearby had their radio on so we could hear the final preparations and checklists.  Then the countdown started.  We heard the radio announcer say "lift off," but then it took another second before we saw anything.  Then the smoke started billowing… then the glowing fire as the shuttle rose into the air.  Completely awesome and amazing!!
(My pictures are off center because I was watching it for real instead of through the camera, so I was shooting blindly.)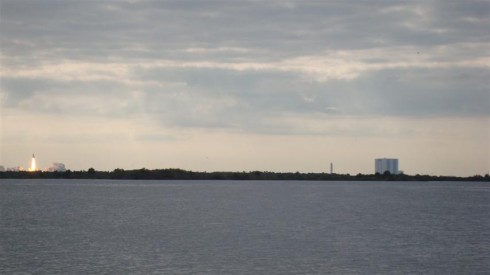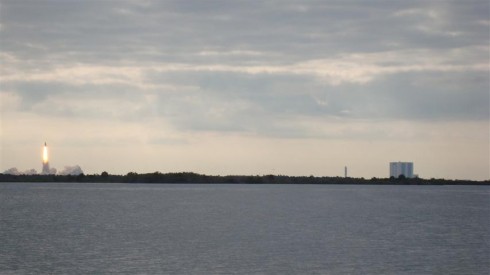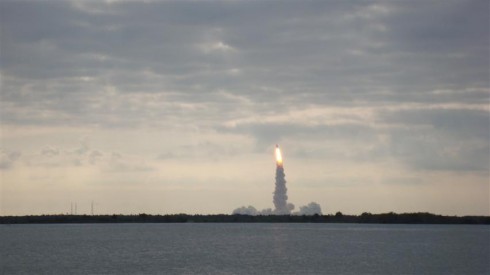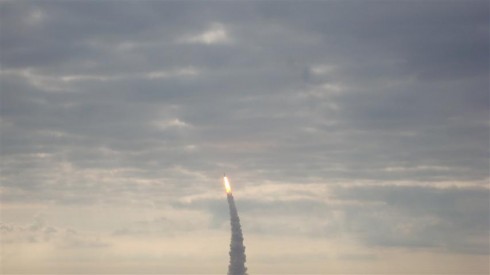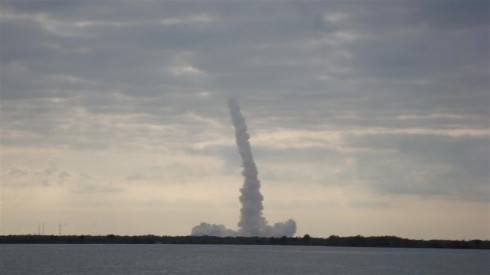 The sound came a lot later, long after we couldn't see anything anymore. It was like a long rumble of thunder the grew louder and then slowly faded. We just sat amazed as we listened again to the radio announcer tell us how far away it was now and how fast it was traveling. So cool!
Kevin had his camera with the fancy lens for even more amazing pictures.  He and Jesse were taking turns shooting some great pictures throughout the day.  Here's an even closer view of the launch: