We finally decided it was time to upgrade our TV. Jesse has been campaigning for a long time to get a new TV, but I didn't see the need to get rid our TV that was working just fine. But then it started not working fine. Something was going wrong with the speakers. They started making this popping and crackling noise even when the sound was off. And when the sound was on, it would just get louder as the volume got louder. So, of course, Jesse decided this was the perfect reason to finally get rid of it. I'm not so sure Jesse didn't do something to it to break the speakers… just kidding! 🙂
Anyway, we found a great deal on on a big screen. Pretty much the biggest TV that could fit in our entertainment center. We got to the store and told the Sears man the one we wanted. I was kinda annoyed that he immediately tried to talk us into a different one that was $50 more. We thought about it for a while and decided to go with our original choice. We again told the guy the one we wanted and he said "Okay, but I don't even think we have any of these in stock." Maybe he could have told us that before. I'm thinking it was a little too convenient that the one he was trying to talk us out of was all of a sudden out of stock. Especially since we saw online that they had several in stock. He called around to several of Sears to see if any other stores had it in stock… they didn't.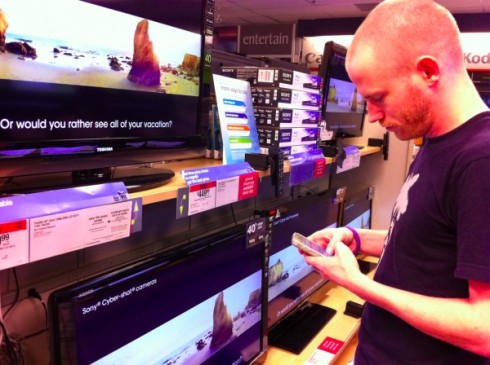 Of course, the sales guy suggested we change our mind to the slightly more expensive one he was trying to sell us in the first place. Jesse did some last minute research on his phone and determined that one would be just as good. However, we didn't want to pay more for it. Jesse told the guy if he gave it to us for the same price, we would take it tonight and give him the sale. We win!! Jesse calculated that with the sale price and the bargaining we got it for 36% off normal price.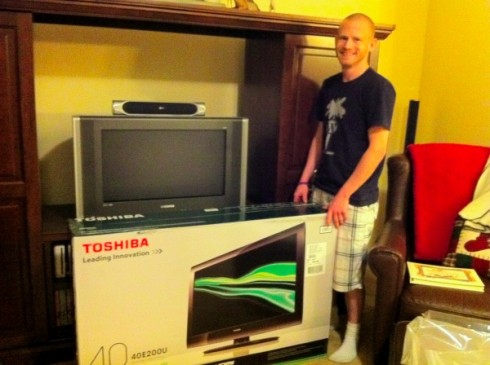 Jesse is more than happy with his purchase. He was practically bouncing out to the car with excitement. I'm glad he's happy, he totally deserves it with how hard he has been working the last couple of months.