THAT was what we wanted to see! Unfortunately, it didn't happen. It was pretty disappointing when we heard the news because I was really looking forward to being able to see it.
Yesterday I drove with a couple of friends to Titusville to see the shuttle launch. We were up early for the drive and got there in time to find free parking and we walked to a nice park where there was supposed to be a great view. We got all set up and comfy with all our snacks for the long wait. By lunch time the weather had cleared up and it was such a beautiful day that we thought it would be looking good for a successful launch. Then we heard that it was a no-go.
Our seats would have been perfect too. I forgot to take any pictures since I was still hours away from needing to have my camera ready, but this is where we were (only it was packed with people). We could see the big NASA building and where the launch pad was so there would have been nothing blocking our view.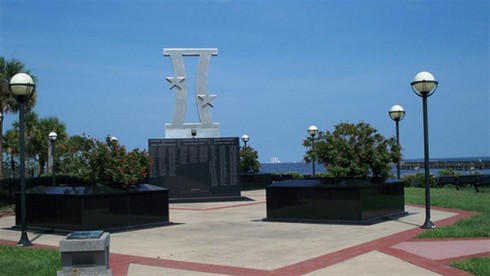 It was still a good day especially since I wouldn't have had other plans anyways. In the end we drove across the state just the find the perfect place for a picnic. 😉