Our little A has been reunified with his parents! This was the goal for his case plan all along and is considered a happy ending… even though it doesn't feel so happy right now. We miss him so much and everything we see around our house is a constant reminder of his absence. However, on the other side of the story his parents are beyond excited to finally have him back with them. We have been receiving emails from them about how their first couple of days are going and it sounds like they are doing a great job. I know they had to work really hard to comply with all the agency requirements in order to get him back, so we are truly happy for them… but still sad for ourselves at the same time.
The call came on Tuesday to let us know that he would need to be reunified by the weekend. We were stunned because throughout the case plan we had been told that his parents' visitations would progress from four hour visits, to eight hour visits, to overnight visits, to weekend visits before reunification would happen. So we always figured we would have at least a couple of weeks of warning before he would ever leave. Bam! Just like that, the whole plan changed. My mind started racing right away trying to figure out how we would get him ready to move out that quickly. After being here for six months, we needed to remember which things were his that he came with, which things were given to him as birthday presents or other gifts, and which things we were keeping that we had set up before he even came to us.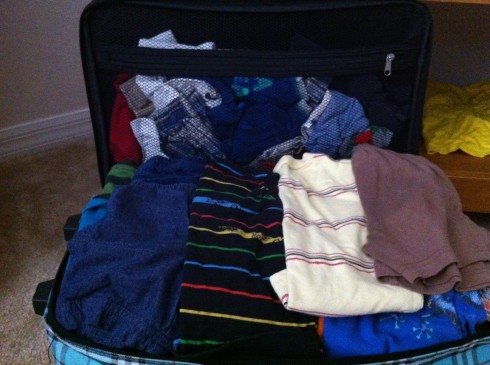 :: We decided to take A out to eat that night to put the news out of our minds for one more night. We had taken him out to eat very few times since it's so hard to do with my food allergies. We though that would be a fun change… and it was!
:: The next morning we sat him down and explained to him best we could that it was time for him to go live with mommy and daddy, and not live with Jesse and Kristin anymore. We told him that we were so glad he got to live us, but that it now it was their turn to take care of him again. We must have reminded him a million times in those last days that even though he was leaving we still loved him very much and will always love him.
:: Wednesday the three of us had a great day playing together all day. I was just trying to memorize every second of him playing in our house, knowing that he wouldn't be here in a couple of days.
:: Thursday morning we brought A over to his parents' house for him to be able to check out his new room and get to play in his new house before he just moved in there all of a sudden. Even though this wasn't required we and his bio parents all agreed that it would be best for him and help him feel more comfortable. We so much enjoyed his parents' hospitality as they welcomed us into their home for the first time that day. They allowed us to get to see his new room too, and we all talked for a while about A's schedule, likes, and more!
:: Both Thursday and Friday we had dinner and play time at Nana and Papa's house, with Dewey and 'Cole. They've been such a big part of his life too, so we really wanted us all to be together for our last dinner (times two, ha ha).
:: Saturday morning we finished packing up all of his clothes, toys, books, and many other items and drove him to his parents' house. A was silent the whole ride over there. I think he kinda understood what was happening when he saw us carrying in all of his things, but at the same time he was still confused about what was going on. When we left their house I cried all the way home, knowing he was gone.
:: Saturday afternoon we got to see A again! We had made plans weeks ago to attend an event that A's parents had invited us to. Little did we know A would be arriving with them instead of us. It felt different knowing that he was now in their care instead of ours, but I think it made the transition a little easier on A to get have all four us there to play with him. It was so hard to leave him all over again and head home without him.
:: Sunday we did absolutely NOTHING. We slept in and then sat around all day watching television and moping… and waiting for more email updates from A's parents. Fortunately for us we got about five email updates about how their first day back together as a family was going. It was completely making our day just to know that A was fine and happy.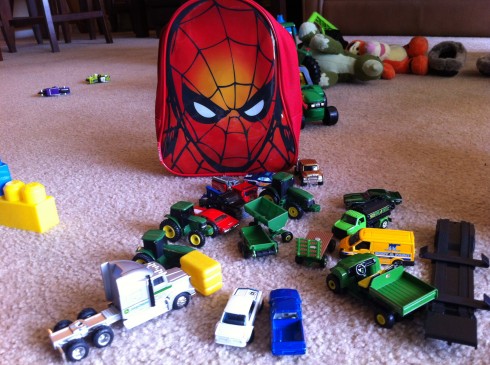 A's parents are being awesome about wanting us to have a continued role in his life. We are so grateful to have the opportunity to keep visiting him occasionally and they said that he could still come to church with us too. They are nice people and I think they will do a great job raising A from here. I still remember how scared I was to meet them for the first time. I honestly thought they would hate us because we had their son and they wanted him back. But they are not like that at all… they appreciate how much we have loved A and now we've gained new friends!
We can be praying for A and his parents as they transition into this new chapter in their lives. Pray for renewed energy each day to keep up with A, for patience as they learn how to be a family again, and for some other challenges they are still working on. That's what I prayed for ourselves the whole time we had A, so I'm sure they could use the same prayers!