I've added a new vitamin to my daily regimen. Quercetin is a natural vitamin found in fruits, vegetables, leaves and grains. Quercetin has been shown to have anti-inflammatory and antioxidant properties. It has demonstrated significant anti-inflammatory activity by inhibiting both synthesis and release of histamine and other allergic/inflammatory mediators. I know I can't believe every claim that every vitamin makes, but I found so many testimonials from people with allergies who say that this really helped them. I figured I might as well give it a try. Plus I ordered it super cheap on Amazon so I don't see a down side.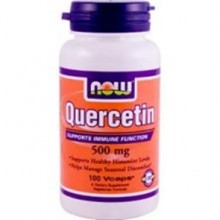 I've been taking it for almost two weeks now and I think it might be making a difference. It's so hard to tell because there are so many variables that could be contributing. All I know is that I am feeling a lot less of the itchy nose and eyes that I was feeling a couple of weeks ago. I'm also sneezing less and haven't needed to use my inhaler for several days after needing it every morning for a little while. We haven't adjusted foods or activities and were even outside almost all day on Monday. At this moment, I just know that I don't want to risk changing anything when I'm feeling good.
Almost without fail when I tell someone about my allergies everyone has suggestions about foods that I should try that might help me. Most common things I hear are green tea, citrus, lots of berries, and honey. Interestingly enough, quercetin is found in all of those foods. Of course all of those foods are high in lots of vitamins, but hey… it's worth a shot!
Anyone else ever try taking quercetin for allergy relief? Does it make any difference for you, or is it all in my head?