The projects continue around our house. They are equally exciting and exhausting. I really do love the opportunity to get things organized. It's amazing to find what things we have shoved in drawers or in the back of closets that we have no reason to keep. I think our trash man might start to hate us. We have had several garbage days with abnormally large piles waiting for him. And we've only lived here a few years… it doesn't seem possible to have accumulated so much junk already!
Our home office used to be located in one of our spare bedrooms. Although it was working out as a nice setup, we now want to be able to use that space as a bedroom for when we become foster parents. So, we decided that the best place for our new office space is in our master bedroom. Our bedroom is pretty big so there is plenty of space for our desks, it's working out quite nicely.
Step one involved choosing a paint color for the bedroom. I guess this wasn't actually a necessary step, but it seemed like a good time to go ahead a paint.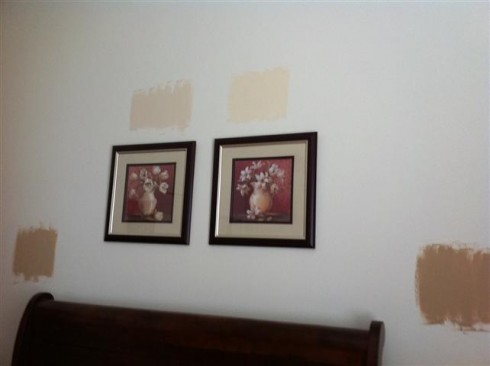 Since we had to rearrange our furniture layout in order to accommodate the desks, it was now or never. There is now way we would have wanted to move out even more furniture to paint in the future. Now that its done I'm glad we did the painting, but it sure was a lot of work! I moved all the small items out of the room to make for a very cluttered hallway.
Then I used lots of sheets and blankets to cover up our big pieces of furniture. I love our bedroom furniture! There was no way I was taking chances with getting paint on anything, every little part was well covered.
Our room was extra tricky to paint because it has vaulted ceilings. We had to borrow a taller ladder to reach the top of one wall. Kinda tricky to concentrate on painting when you're that high off the ground. Once I got the first, big wall done I knew I liked the color I chose. It's definitely dark enough that you notice the color without it being too dark and feeling like a cave. I really thought hard about the color, especially since we now spend so much of our time in here.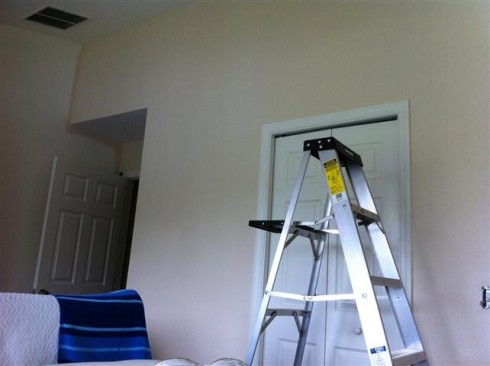 I had been planning on doing all of the painting myself. I finished with all the priming in one day. That night I was so sore and worn out, I knew there was no way I could paint again the next day. Jesse was so excited to move the computers in that he wasn't willing to wait the extra recovery day so he decided to do the paint coat himself. It's just as well, he did a very nice job.
While he painted the top coat, I worked on painting all the outlet covers. Those are always fun to paint. Plus it makes such a huge difference to have them matching the walls in the finished room.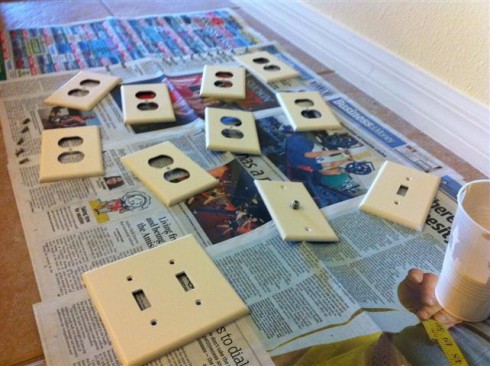 Check back soon for Office Relocation – Part Two, pictures of our finished office spaces…