After a day of nothing but eating and relaxing, we (or maybe just I) was in project mode yesterday. We finished up a couple projects off of my to-do list. Of course it took longer than I thought it would, but if felt good to get something accomplished.
Yesterday we finally chose and printed out pictures for the empty picture frames that have been hanging in the stairway for months now. It took a while to go through and find pictures for all the spaces, but it looks so much better now!
With the purchase of the new TV, we had some adjustments to do to our entertainment center. Our old TV was too deep for the back of the entertainment center to fit on, so it's just been open to the wall until now. It was such a pain to get that pulled out to get behind there and get everything plugged in properly. But since it was pulled out I cleaned the dust off it really good and it looks great to have it put together like it was intended to be!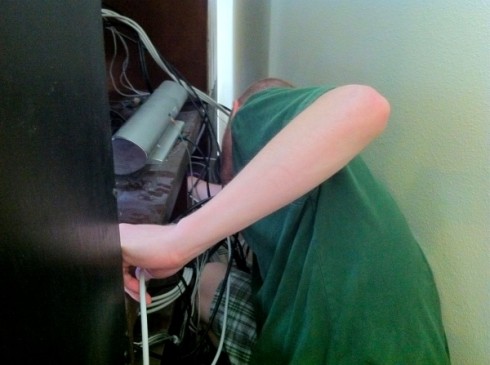 Then we headed back over to my parents' house to eat leftovers and play some more Wii games. Today we are just taking it much easier. Neither of us is feeling very well. We are doing nothing but watching football and movies. Hopefully a more restful day will get us feeling back to normal.