Last night was my monthly get-together with the Tampa CF wives. I can't describe how much I truly love each of these ladies. I can't believe that we met for the first time just a few months ago, it seems like we've known each other forever. Each of these girls has complete understanding about what it's like to live with ever-present CF.
I feel so re-energized after our girls' nights out. Our dinners together are pretty much the only time I talk much about CF related aspects of our lives. I'm still getting used to the fact that we can easily go from talking about recipes and haircuts to enzymes and mucus without even thinking about it. We laughed last night thinking about what people at the tables around us must be thinking about such conversations… only a CF wife can understand.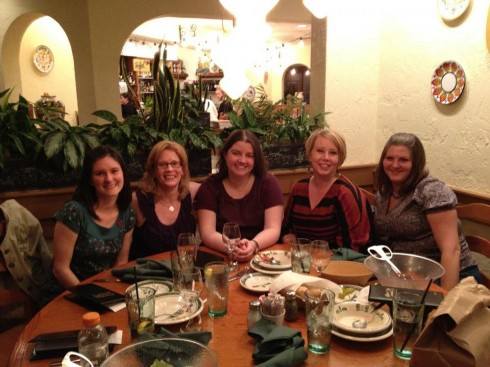 Last night was extra special because an out-of-town CF couple that we're are good friends with were in town. We were so excited that it would work out for her to join us for dinner. We first started following Jim and Denise about two years ago when Jim was preparing for his lung transplant. Then last year we had the pleasure of meeting Denise, but Jim was unable to travel at that time. So we've really been looking forward to getting to meet Jim this year.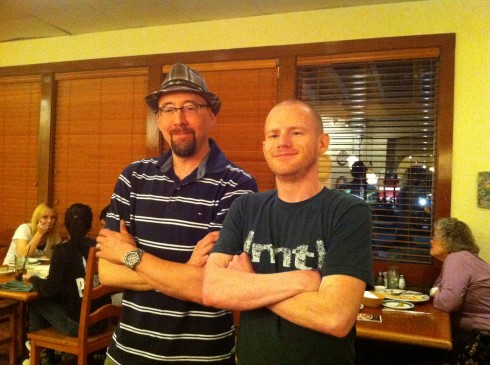 Jesse and I sat down with the two of them for a while before dinner. They are an amazing couple! They have been through so much together, yet they both have such a positive outlook on life. Jim is the first post transplant CFer that we've met in person. We were beyond excited to hear from him what it's like to breathe with someone else's lungs. We were also excited that he so proudly showed off his scars/battle wounds. (Side note: Don't freak out… we and Jesse's doctors believe that he is very healthy and is nowhere near thinking about a lung transplant, so that's not why we wanted to meet them. However, it is a reality for many CFers later in life.)
After meeting Denise last year, she thought that Jim and Jesse would get along perfectly. She was so right! It was funny how similar their personalities are. After Denise and I left them to meet up with the other wives, the two of them geeked out at the Apple store before heading to their pizza dinner. Denise and I were of the same opinion that we weren't missing out on anything by not getting to the Apple store.
It meant a WHOLE lot to Jesse to be able to talk through CF stuff with someone who has been through it all. He had such a good time with Jim and he talked our entire ride home about everything learned from talking with him. It's very scary to think that ten years from now we could possibly be where they are now. But then… hearing and seeing how happy Jim is now lessens the fear just a little.
We were extra paranoid about keeping a distance between the two of them. With Jim's clean, new lungs Jesse did not want to be the one to infect them. Jesse made sure to bring a mask to wear when he was in the car with Jim and even held his breath when he stood close enough for a picture. Jim laughed at Denise and me being over-protective.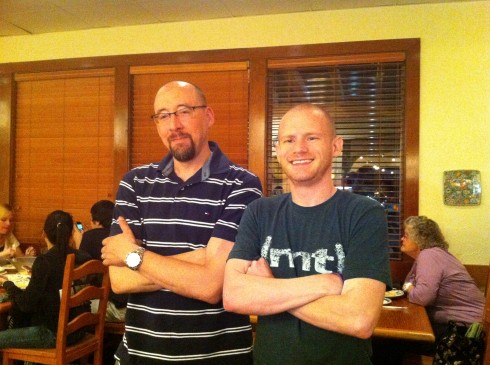 Such a good time was had by all. We're already looking forward to seeing them when the come back to Florida again next year. Thanks for taking time out of your vacation to spend with all of us!