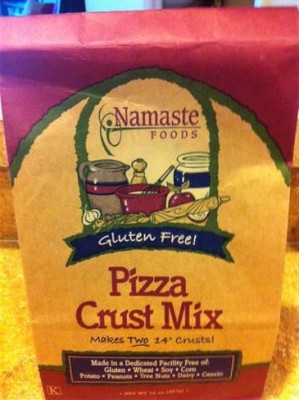 I am so excited to tell you about a new brand that I have just discovered. The wonderful folks at Namaste Foods might just be my new best friends. I tried their pizza crust mix for the first time tonight and LOVED it! I didn't realize how much I was missing not being able to have pizza. Their crust mix is super tasty and all I had to add to it was a tiny bit of olive oil and some water. I went to their website after dinner and found that they also make pasta, muffin mix, brownie mix, and frosting! I can't wait to try out some more, or all of their products.
Jesse is a pretty tough critic when it comes to pizza, the man really knows and loves his pizza. When he says it's one of his favorites you know it's got to be really good. We'll have to experiment with some different toppings and see what other kinds of pizzas we can come up with.
The recipe was intended for one 14″ pizza, but we like thin crust so I made two 9″ pizzas. The crust goes in the oven to cook for 20 minutes. Then add all your toppings (can you tell which one is for Jesse?), and back in the oven for another 10 minutes.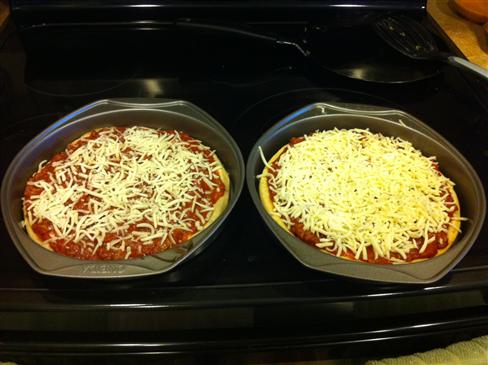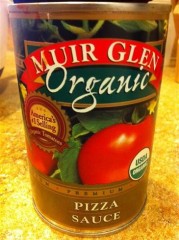 My toppings were ground beef mixed with pizza sauce. I like to use Muir Glen's tomato products. It's really not because it's organic, but because it's hard to find sauces that I am able to have. We love their spaghetti sauce so I thought their pizza sauce would be good too… and it was! They add lot of yummy spices to their sauces that made the pizza that much more fabulous. And, of course, we had cheese.  Too much milk products tends to bother my stomach, but I do fine with a little.
The pizzas came out perfectly! I think pizza will be back to a regular part of our diet again. I had to email Namaste Foods after dinner just to let them know how awesome it is that they make such a great product for people with allergies. It is really hard to find foods that avoid all three of my allergies so I just wanted to make sure they know someone is really enjoying them.