Have you ever tried buffalo? Neither had I until I landed myself on this crazy allergy diet. With the elimination of pasta, a frequent meal at our house, dinners quickly became a rather boring rotation of chicken, beef, pork… chicken, beef, pork, salmon. So we decided to be adventurous and check out the exotic meats section at Land and Sea Market. We tired several new meats that we hadn't eaten before. We didn't care too much for the others we tried, but the buffalo we really enjoyed!
Buffalo has a very similar taste to beef, but you can definitely taste the difference. Since the ground buffalo is a bit on the expensive side I wanted to use it in a recipe that would make it stretch, but still be filling. This is the recipe I first tried with the buffalo and I've made it the same way every time since we both really like it.
I start by sauteing chopped onion and garlic in some olive oil. I usually like to use green onion in this recipe, but I forgot to buy some… this onion worked just as well.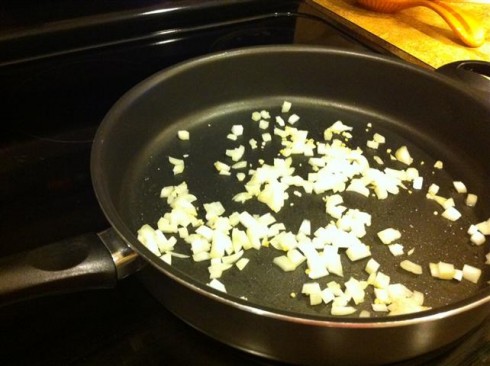 Once the onions start to get soft, I add in my chopped green and red peppers and cook until everything starts to caramelize nicely.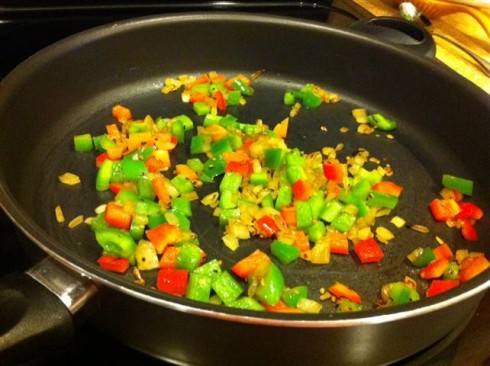 I use a half pound of ground buffalo. The ground buffalo comes in a one pound package. I already had this second half browned and frozen from the last time I made this recipe. I also added most of a package of frozen leaf spinach, just the right amount until it looks like a good ratio. Jesse really likes spinach and although I don't mind it in a recipe or fresh on a sandwich, I wont eat it plain like he does.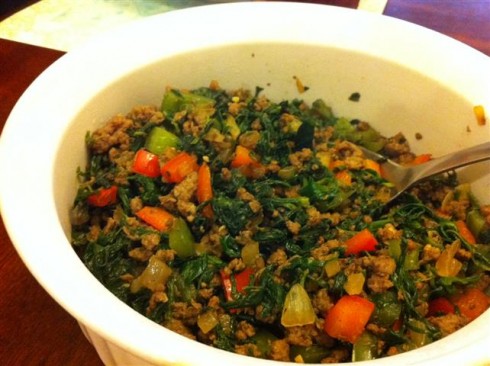 I don't like to add to much in the way of seasonings or sauce in this recipe because I don't want to hide the buffalo flavor. I used a good amount of salt, some black pepper, and just a hint of red pepper. I like to pair it with either a baked potato or quiona.
(Side note: I realize neither of those are paleo approved, but I'm on an allergy version of paleo. I use a lot of paleo recipes for the use of fresh and simple ingredients, not necessarily for the lack of grains.)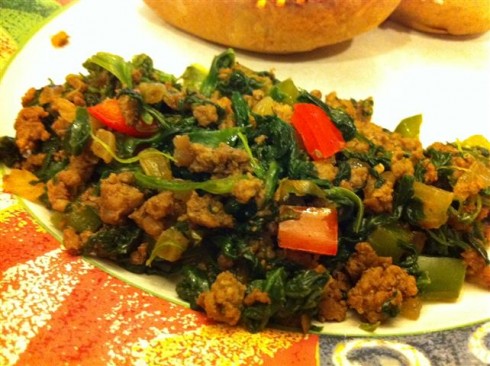 So what do you think, do you want to give buffalo a try? It's really quite good!