I had heard that P.F. Chang's was great at handling diners with food allergies. So when friends of ours invited us to have lunch with them at P.F. Chang's I was excited to give it a try. We rarely eat out anymore so this was a treat for sure. I was blown away by their food allergy system and their attention to detail.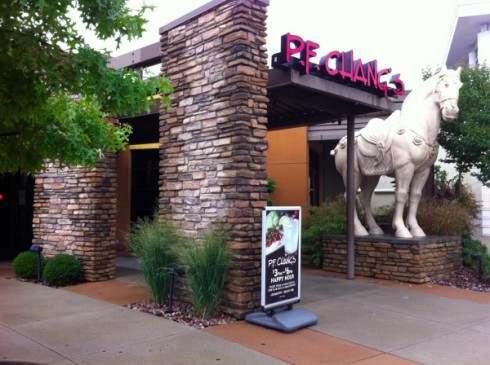 I had looked over their menu online the night before and chosen what I thought would be best for me to order. It's always a good sign when the menu states that they are willing to accommodate special dietary needs. Each dish listed the ingredients involved so I tried to pick one of the most simple dishes. I decided that the beef and broccoli off of the gluten free menu with plain, white rice would be my best option.
As soon as we sat down at our table I informed the waiter of my allergies and told him what I was thinking about ordering. When I mentioned soy as one of my allergies his eyes got wide and I thought I had made a huge mistake trying to eat at a Chinese restaurant without consuming soy. I suggested to the waiter that I could go without sauce, to which he replied that any dish without the sauce could be made safe for me. We talked a few more minutes about how the food would be prepared. He was very knowledgeable about specific ingredients in each dish, right down to what type of oil my stir fry would be cooked in. I was more than pleased that he could answer all of my questions off the top of his head without having to check.
When the waiter came back to take my order he had me tell him my allergies again and he wrote each one down on the order ticket with my order. He was extra great because each time he brought something to the table, such as the soups and extra condiments, he made sure to let me know which ones I should stay away from. When it came time to offer dessert, he suggested their gluten free option. I found it fantastic that he was paying attention and remembering the whole time!
When my lunch was served it came on a special plate that marked it as the allergy free food. I had read that they do this on the web site, but the waiter also explained to us that any time someone with food allergies places an order it is put on a plate marked with the P.F. Chang's logo. That way I knew that my order had been properly flagged in the kitchen. He reminded me that any time we eat there I should always make sure I receive a specially marked plate. I thought this was awesome because it let me know that the people in the kitchen had received my message and were paying attention to what was being added to my plate. When it was brought to the table it was very clear which was mine when everyone else's food was in large, plain, white bowls. Awesome!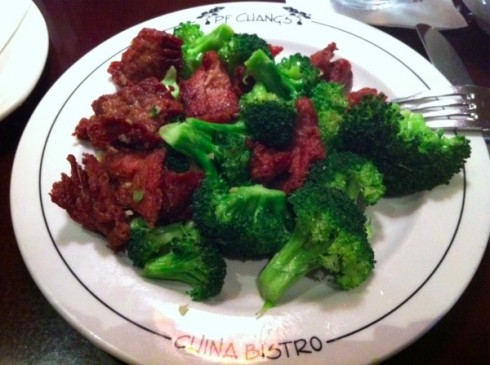 My experience with P.F. Chang's was even better than I had expected. My food was delicious and knowing that they had such a great system in place left me free to enjoy the time we had with our friends instead of worrying about whether or not my lunch would give me some type of reaction (by the way… I felt perfectly fine). I will definitely be enjoying meals there in the future and would recommend it to others with food allergies.