I had been trying to prepare A for vacation about a week or so before we left. He was pretty unsure about seeing things being set out of place and watching suitcases being packed. I explained that vacation means that we have to drive for a long time and then we get to the farm. When it came time to actually packing up the car, A was definitely stressing out… and then we strapped him to his car seat for 18 hours!
For the most part, I think he did great in the car. He didn't sleep quite as much as we thought he would, but since it was dark he was at least quiet or talking to himself when he wasn't sleeping. It seems like driving at night was the best choice as the roads were empty and it's the only way he could have sat for that long straight. We'll just have to see if we can be rested enough to do it when we leave.
We stopped for a picnic dinner that didn't turn out as fun as planned. It was super windy and A was covered in millions of bugs. It was hard to do anything but laugh as I pictured what we looked like as we tried to keep our food from blowing away, swat bugs off of A, and eat as fast as possible. We are always telling A to eat slowly so it was pretty funny to see his reaction to being told eat quickly.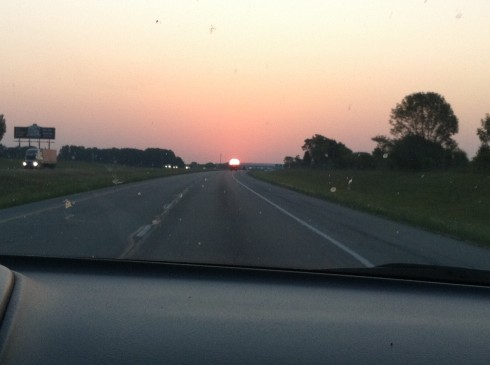 A woke up several times in the night and it was impossible not to laugh at his comments in his grouchy, over-tired state. Things like "I don't want seat anymore!" or "I want grass now" meaning he wanted to run at another rest area. The funniest thing might have been when he was confused about getting his pajamas on. We tried to do his whole bed time routine and told him to go to sleep and he said in a crying voice "I no shoes anymore, I no shoes on." He was very concerned that he wasn't wearing shoes in the car. I kept trying to assure him that he would have fun once we got to the farm, but at that point I think we was pretty much convinced that he hated vacation.
Now that we're here he is doing great! I wasn't sure how he would react to having his entire environment changed after only being with us for a couple of months. He has been sleeping fine and is already completely comfortable with Grandpa and Grandma Sipes. He loves walking down to the barn and getting to sit in Grandpa's big tractors. It's pretty funny to see him take the lead and tell us where to take him after he's only been here for a day. He's also enjoying getting to play with some fun, old toys. He spotted toys around the house right away and has actually been playing by himself some, which he rarely does at home.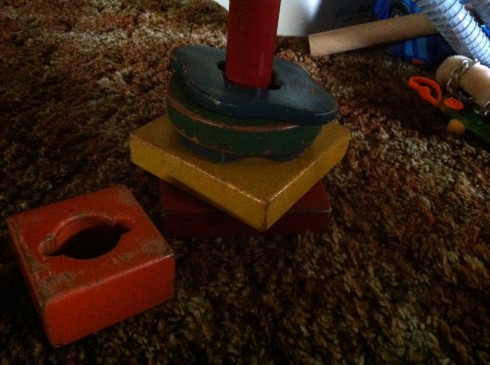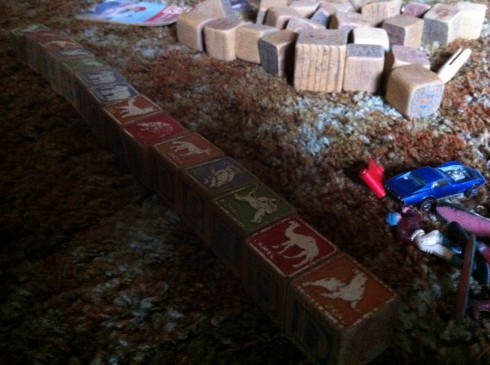 Today we got him to help with the "chore" of picking up fallen apples. He thought that was pretty great. He carried the big bucket around randomly deciding which apples were good enough to bring inside. We filled the entire bucket and then he dumped them out and wanted to start over. So funny! We had to explain to him that Grandma wanted to keep them in the bucket this time to bring them inside.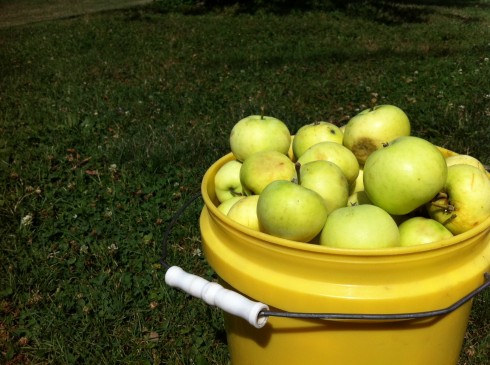 So we are having lots of fun so far. We can't wait to see what other new experiences we get to share together!