Breaking news of the day: I ate corn! A friend dropped by to visit this afternoon and brought with him a bag full of freshly picked corn on the cob. It had occurred to me on the drive up here that the opportunity would probably come up to try corn again, and it did. I just couldn't resist giving it at least a little try.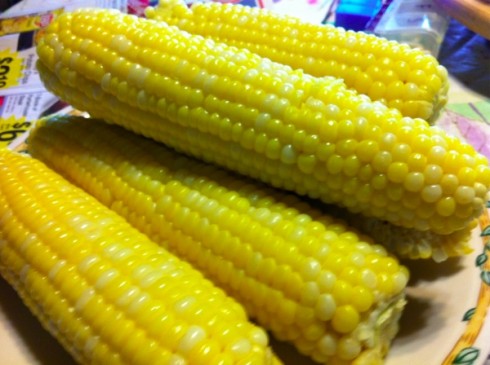 My allergist had advised me to cut out corn for several months in hopes that it would lessen my sensitivity to it. Since it had been about that long, I figured that now was as good a time as any. It doesn't get any better than eating it hours after it was picked! It was SO good!! So far I've had no problems. I'm maybe a little itchy around my chest and arms, but nothing major. It's hard to tell if that's only my imagination. I think I'll give it a few days and try it again before we head home.
In more important news: Jesse finally has his new computer! We have been planning this purchase for quite a while now, he was so excited when it was finally time to go to the apple store.
We have been watching our budget very closely these days. We are working very hard to save money and not spend money spontaneously. Our goal was to get ahead a little in the business account and then earn enough on top of that to pay cash for the new computer.
With all the programs Jesse usually has to have running at once, the laptop would often have a hard time keeping up with him. I know he was frustrated with being slowed down by his computer, but he was determined to stick with his goal. He wanted to prove to himself that he could be wise with his money unlike he used to be.
I'm so proud of him for EARNING his new computer before purchasing it. I had one very happy Jesse after making that purchase. We decided it would best if I drove home from the store so that he could play with it on the way home.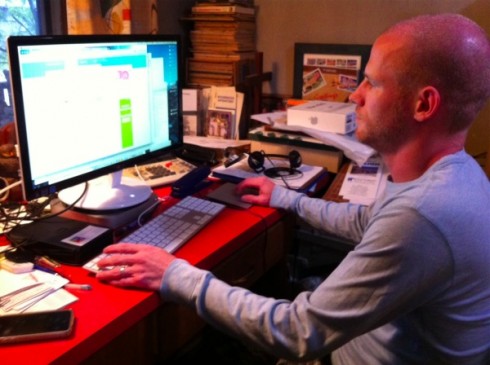 It turned out to be great timing that we were able to make the purchase right before coming to Grandpa and Grandma's house. He's been able to set up his entire office here and work like he would have at home. Plus that means the taptop is now free for me to be able to use. Good work Jesse, I'm glad you're happy with your new purchase.