We have been super busy this week, I can't believe the week is almost over already. Not to mention that we have clinic tomorrow so today is really like our Friday. We're looking forward to catching up on a few things this weekend, one of those things being some much needed rest and relaxation time.
I hadn't really intended to make this post be about Jesse, but as I looked through the photos I had of the last week most of them included him.
:: I made this awesome dinner casserole that was made up from all the leftovers I had in my fridge. It was packed full of veggies including a tiny piece of onion, a little green onion, a few carrots, tomatoes, yellow squash and zucchini (these were fresh), and a bowl of leftovers peas. I mixed all this together will some ground beef and a few spices. I layered half of the mixture, a little cheddar cheese, the rest of the mixture, and topped it with more cheddar cheese and baked it long enough to melt the cheese. I wasn't really sure if Jesse would want to eat it, but he LOVED it! All those veggies… yum!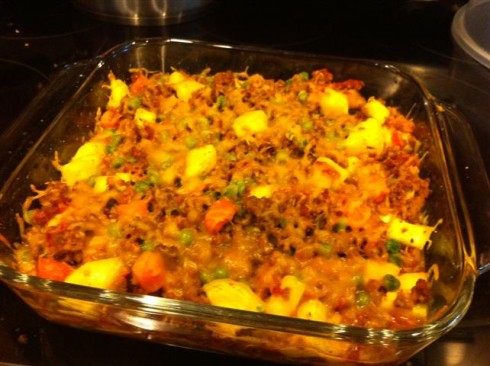 :: Every now and then we will have dinner at the coffee table to watch a TV show while we eat. We rarely do that, but this happened to be one of those nights. I carried the hot casserole dish into the living room to set it on the table and it slipped out my hands spilling all over the table, the table decoration, and the carpet. I was so upset with myself! We later concluded that the amount of tomato juice in the bottom of the dish must have been what made it so unbalanced. I must have tilted it just enough for the inertia of the juice to cause it to spill. My table decoration was ruined, covered in sauce and cheese and had to be thrown out. At least we were still able to eat the casserole.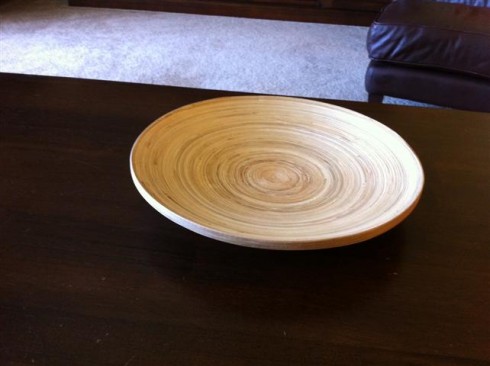 :: I was most upset because the decoration was a birthday gift this year. After a while, Jesse made me realize that it really wasn't that big of a deal since it was something that was very easily replaced. I was able to order a replacement the next day. Oooh… as I am writing this the door bell rang with the delivery of my new "orbs." The plate is now refilled and everything is right again in our living room.
:: We are looking forward to participating in Outrun CF again this year. Outrun CF is a virtual race/fundraiser for Cystic Fibrosis. Runners can sign up and then run their own, individualized race wherever they want, for whatever distance they want. If you're interested, it's not too late to sign up. The shirt that comes with registration came in the mail this week. Jesse has worn it almost every day since.
:: Most nights I will cook dinner while Jesse finishes up work for the night. Except for stir fry nights. Jesse is a great cook and stir fry is one of his best meals. I love having a break from cooking for stir fry night.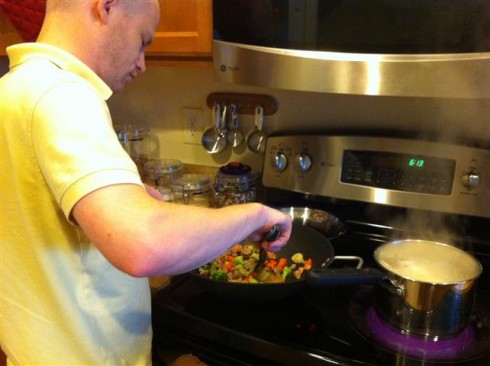 :: After several months of saving for a new computer, Jesse finally has his work station all set up the way he wants it. (Note: he's wearing the orange shirt again.) He looks super geeky working over there with his three monitors and multiple keyboards. He says he can be much more efficient working that way, but it looks kinda confusing to me. I'm glad he's happy, I love my geek!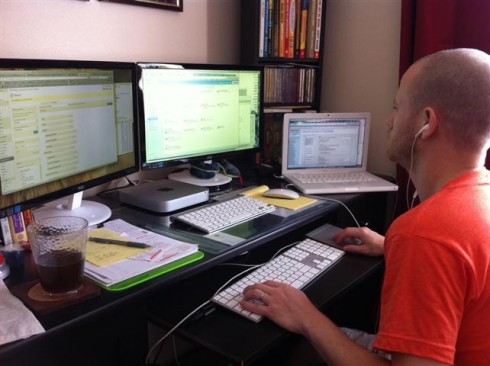 Happy (day after) hump day everyone, hope your week has been great so far!