The light rain started last night, continued all through the night, and all day long without stop. Needless to say we didn't get to spend any time enjoying the outdoors today. At home it's usually warm when it rains, but here it was quite chilly. So instead we stayed warm and dry with some indoor activities.
::Grandma did some more canning first thing this morning. She was given some grapes that she made into grape juice. I'm still pretty fascinated with the preserving process. I did freeze plenty of fruit this year, but I haven't been brave enough to try canning on my own.
::The men worked on manly things together in the barn this morning. They got our car ready for the next leg of our trip, changing the oil and the wiper blades.
::I spent more time looking out my favorite, big kitchen window. I just can't get tired of seeing Fall outside. It's so pretty, and this is the first time I've been here at this time of the season. I'm really hoping the beans get harvested before we leave. We'll have to wait and see if it gets dry enough.
::We brought a huge pile of jackets… the one I want is always at the bottom. They are all different thicknesses for however cold I am at the moment. I've been wearing two at once to be warm enough outside since I don't have a super thick jacket.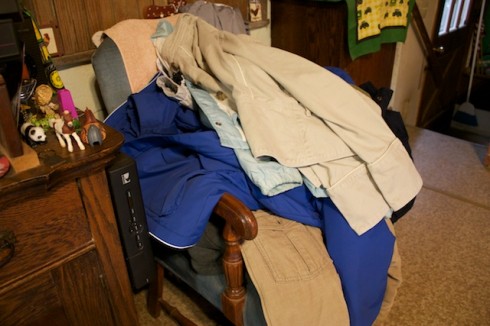 ::We have a high volume of pills in this family. Everyone has their own pill containers, I even have mine for my daily allergy medicines. Mildred noted today that we all happen to have different ones, which is good thing so that we aren't trying to take the wrong pills.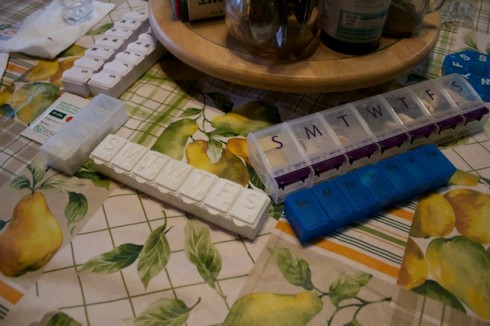 ::Family meals have been interesting this week. With each person having their own dietary restrictions I don't think there has been a meal yet where we've all eaten the same thing. It's worked out just fine though. We've each had plenty to eat.
::Tonight ended with a game of dominoes. We always play dominos when we're here and we only play when we're here. Mildred won by far. We tried to gang up on her at the end, but it didn't work. It's been a while since we've played all the way through each number, but we had started early enough tonight that we had enough time to finish.
We leave in the morning to head to Niagara Falls. I'm so excited for the next couple of days that we will spend there. I'm sure we will be taking tons of pictures to share. Time for bed now to be ready for our early morning.