Yesterday we were up early to go to the Westchase community garage sales. They have them twice a year, and since it's such a nice neighborhood they often have some pretty nice junk to get rid of.  Westchase is also a large neighborhood and so many people participate so you're almost sure to find something you just have to have. I had said that I wanted to find two things: a coat rack and a sewing machine.  Would you believe I was able to find both things?!  Plus it was a beautiful Florida day.  It's the perfect time of year when it's not quite so hot and there was a bit of a breeze… perfect day to be outside.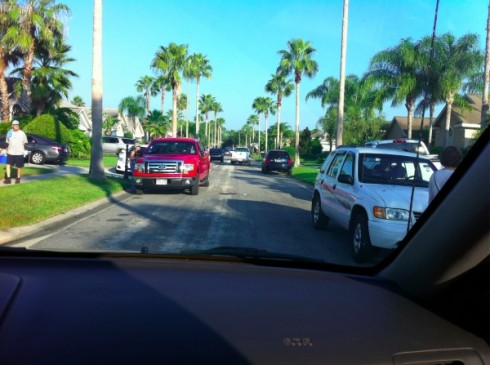 Even though it wasn't as busy as it sometimes is, it wasn't long before we hit some traffic jams. It's amazing the messes people can get themselves into when no one is directing them which way to go.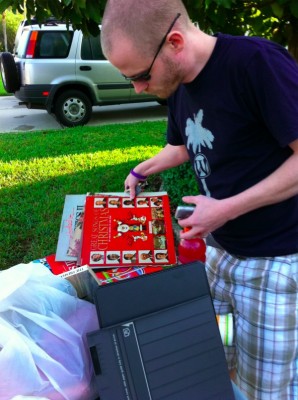 I think Jesse secretly likes doing garage sales with me now. He used to complain when I wanted him to come. But he often finds some stuff that he wants to, so it's easier to get him to agree now. This time he only ended up getting some poker chips that will come in handy on game nights.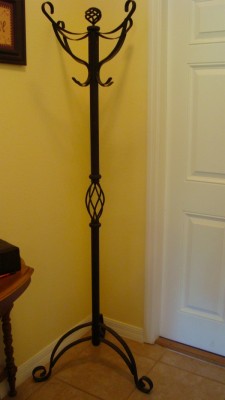 This is the coat hanger we got. The base is a little bigger than it looked when we bought it. It sticks out into the doorway more than I thought it would, but it will work great for hanging my purse and sweaters on when I come home. Here are the other fabulous things we found.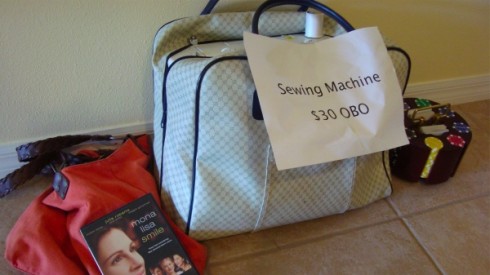 A cute purse, a new movie, and…. a sewing machine! Not that I want to become a seamstress, but I would like to learn how to do minor alterations. Especially since almost everything I buy is too long on me. The lady wanted $30 for the sewing machine. Jesse explained that I don't know how to sew yet so we didn't think we should spend that much. He first offered $10 and they ended up agreeing on $12! I have no idea if this is a good machine or not, but I figure it will be good enough to learn on. I'm so excited to practice.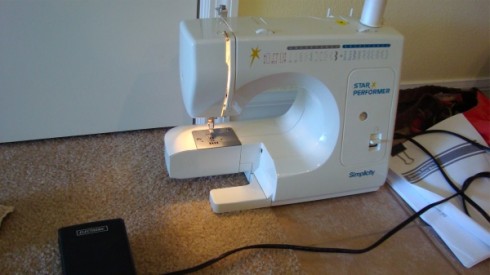 And while we were out shopping, dinner was cooking itself in the crockpot. This was a simple and tasty recipe I found on a caveman diet website.
Apple Glazed Pork Roast (crockpot)
3-4 lb. pork loin roast (well trimmed)
salt and pepper
4-6 apples, cored and quartered (peeled, optional)
1/4 cup apple juice
3 Tbsp. raw honey
1 tsp. ginger
Rub roast with salt and pepper. Brown under broiler to remove excess fat, drain well. Place apple quarters in bottom of crockpot. Place roast on top of apples. Combine rest of ingredients, spoon over roast. Cook on low for 10-12 hours.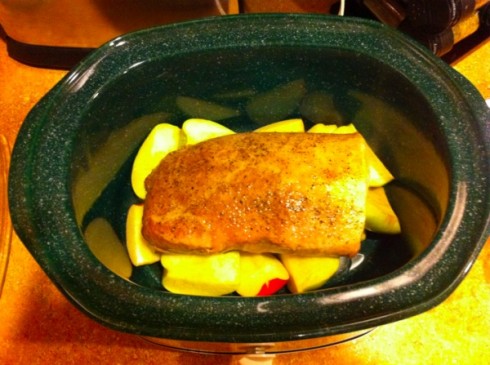 Right now, I LOVE crockpot meals! So much that we are having another one tonight. My brother, Andrew, is coming over and we are cooking one of our new favorite recipes. A couple weeks ago one of the Flash Me Friday-ers posted Roast Sticky Chicken as her favorite recipes. We tried it and it was super yummy, so we are making it again tonight. Check out her blog and try out this recipe for sure!  The house smells so good, I can't wait for dinner time.  Plus we will have lots of leftovers.