Yesterday was our first official day of working together. We are still working out exactly what my role in the company will be. So far, I'm now in charge of all the financial/accounting for both business and personal. We were sharing that responsibility before. That wasn't working out so well as we were months behind on our personal finances, and I've been working the last couple months on catching up our records for the entire year of business income and expenses. It sure is hard to remember what a charge was for that happened six months ago. Our new system feels much more organized and efficient.
Obviously, I don't have the skills at this point to do the actual site design and setup that Jesse does. But there is a lot that I have learned from having my own blog that I can help with. Yesterday I helped with a simple task that just would have taken time out of Jesse's day. It was just a matter of going in to each site of all the people on our maintenance plan and updating how their backups are being stored. I also ordered and picked up a couple of prescriptions we needed that Jesse usually picks up for himself. It was a super easy day compared to the work days that I'm used to, but it's small things like that during the day that take up more time that you realize. If I can take on enough small tasks that Jesse is able to complete one more site each month, then we will be all set. That is our starting point for now, but hopefully I will also be able to pick up some virtual assistant work later on to help contribute a little extra.
We are very happy is our new office set up. We (or maybe just me) are too cheap to go out and a but a new desk that would work to sit both of us. So… we came up with a great solution to make our existing furniture work for what we need.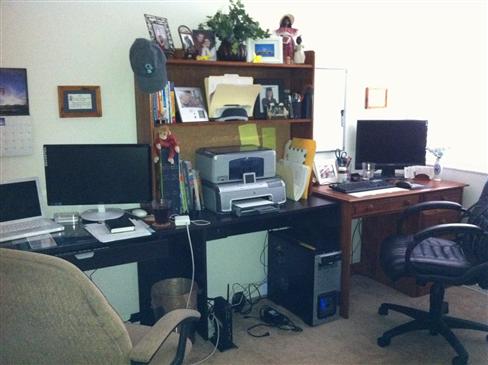 Don't you just love how office-y it all looks? We took the hutch off of my desk so that we could store things that we both want to have access to. And that way we each have that little bit of extra desk space without crowding each other too much.
Then we bought a project board (which is full right now…yay!) so that we can both be on the same page on what we are working on and what the priorities are. Of course I still needed to have my scrapbooking supplies easily accessible, if I ever get a chance to work on it.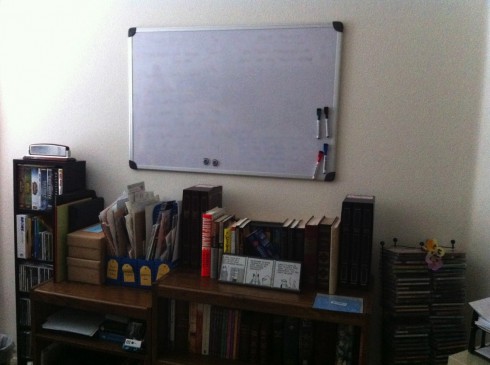 Lastly, I organized our bookshelf to look all pretty. Jesse does a lot of video conference calls with his clients when he is trying to get an idea of what they are looking for. So we positioned the bookshelf with pretty decorations on top to be his backdrop for the calls. Yep, we're just smart and professional like that.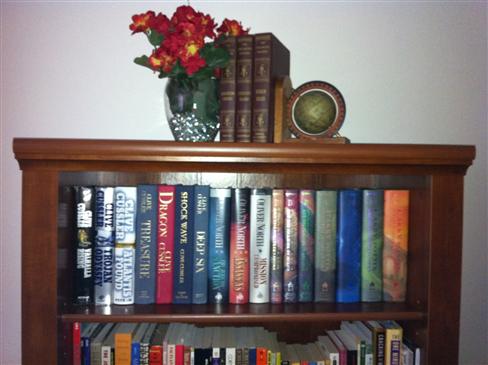 That's about it for our office. Now we just have to wait and see how much work we are able to produce from it.