Macaroni and cheese is a no-brainer comfort food. It's a quick, last minute meal that you never really get tired of having. As a kid the box macaroni and cheese was a meal we made ourselves for lunch at least once a week during summers. Homemade, "real" macaroni and cheese is a recipe that has always been one of my favorites.
I was pretty excited to find Namaste Foods' allergy-friendly version of a boxed macaroni and cheese mixture. It's nice to keep something like that in the pantry for nights when I'm too tired to make a whole dinner. I was pleased with the price of this meal, sometimes the gluten-free meals are pretty expensive. It was super easy to make. Just boil noodles and add sauce packet to heating oil and water… mix together.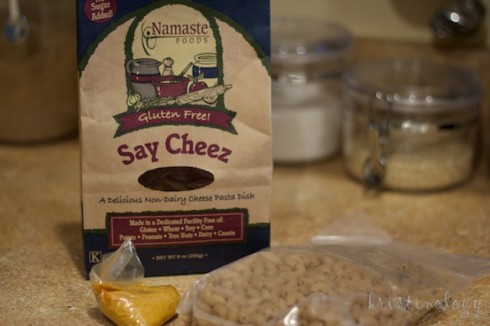 I was very impressed with the taste and texture of the rice pasta in the Say Cheez Meal. We both thought it was better than any other gluten-free pasta we have tried. The taste of the sauce was good, but really didn't taste much like macaroni and cheese. I can't really blame them for trying to make a cheese sauce without the use of any dairy ingredients. We both agreed that we'd like it better if we thought of it as a pasta dish rather than macaroni and cheese.
I'd definitely buy it again to keep for an easy meal… I just wont make it when I'm craving macaroni and cheese. Have you tried this pasta? What did you think about it?