Just thought I would share… here is what my "office" looks like.  I don't have any closed doorway so it isn't really an office, more of a reception area.  People like to call it the fish bowl because it's right in the middle of the office where I can watch everything that is going on, and they can see me too.  My official title is Office Manager (aka: everything no one else wants to do).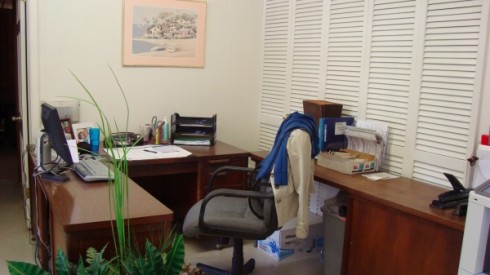 My desk isn't always this clean, but it was slow towards the end of the day today… hence the time to take pictures.  Notice how I brought both a sweater and a heavier jacket to work today.  The factory employees make fun of me for dressing that way when the feels like temperature is 104° outside.  They're out there sweating and I'm bundled up. However, I'm lucky if the office temperature reaches the mid-seventies, which is too cold when I'm just sitting here!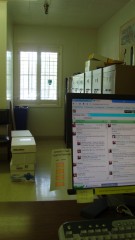 My desk has been rearranged to several layouts since I've been working here.  Even though I'm kinda in the corner, I think this one is the best option.  I like that I can be lazy and roll my chair over to the copy machine. It gives me the most free desk space, and… I can see out the window!  I can peek right over the top of my monitor to see the outside world.  I like to see when visitors pull up and know that the sun is still shining. The back part of my desk has to stay this organized! I can always tell when other people have been using my stuff. I just can't help my OCD, it's genetic.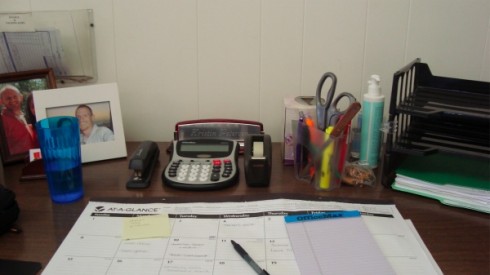 What about you? What does your office/work space look like? Share a link to your space!