I am an official chef!  Since I've been getting so much practice in the kitchen right now… I decided I needed to buy myself an apron. I thought it was cute and it was only $7 at Ross.
The only bad part about preparing everything fresh is how many more dishes we have to go through.  I thought we ran out fast before,  but I feel like I have to use so much just to cook a meal.  I might be a messy cook, but I'm not as messy as another cook in this house.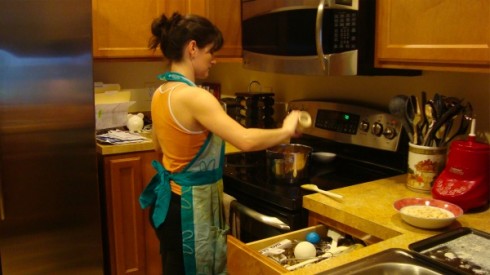 Speaking of my mad skills, I also practiced how to simmer a plastic cutting board. Jesse had been cutting chicken on the cutting board and I thought I had turned on the back burner. I walked back into the kitchen a minute later and wondered how my pot of water was steaming so quickly. Needless to say, it overpowered any pleasant cooking aromas from our dinner. Yikes!