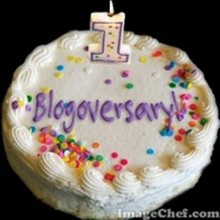 Today my blog turns one! Yay! Happy blogoversary to me.
Yesterday I happened to be watching my traffic and I noticed that I reached unique visitor #2650!! I still can't believe that many people have seen my blog. Thank you SO much for reading!! I love all the comments, emails, and facebook messages I've received from my readers sharing a similar experience to what my blog post was about or just letting me know that they enjoyed one of my recipes. Keep the feedback coming!
I was looking back at my first couple of posts and I think I have improved a lot as a blogger. I have had lots more practice writing over the last year, which has never been one of my natural strengths. My next goal for my blog is to improve my pictures. Jesse and I have been saving up for a nice camera that we have had in the back of our minds for a while now. We're thinking that we should be able to buy it as our anniversary gift to each other. After we get the new camera, I'd love to take some photography classes and learn some simple Photoshop techniques on how to make my pictures look the way I want them to.
According to Google Analytics my site has seen 6,973 visits from 64 countries/territories. Yes, I know it's kinda geeky to look up that kind of information, but what can I say? Jesse's geekyness is contagious. Check out some of the countries that have visited my blog:
Neat, huh? Thanks again for reading, and keeping coming back for more!