When you're in the mood for something completely different try Moroccan chicken. This is another recipe from Simple and Delicious. This easy crock pot meal is full of unique flavors. It may look like a lot of ingredients, but the only thing I had to buy especially for the recipe was the squash… everything else I already had in my pantry.
Prep time: 25 minutes
Cook time: 6 hours
1 1/2 lbs. butternut squash, peeled, seeded and cut into cubes
1 can (15 oz) chickpeas, rinsed and drained
1 medium onion, chopped
1 cup chicken broth
1/3 cup raisins
2 garlic cloves, minced
2 tsp. ground coriander
2 tsp. ground cumin
1/2 tsp. ground cinnamon
1/2 tsp. salt
1/4 tsp. pepper
8 bone-in chicken thighs, skin removed
2 medium tomatoes, chopped
1/2 pitted green olives
1 tbsp. cornstarch
1 tbsp. cold water
Hot cooked couscous
Place squash, beans, onion, broth, raisins, and garlic in the slow cooker. Combine coriander, cumin, cinnamon, salt, and pepper; rub over chicken. Place chicken in slow cooker on top of other ingredients.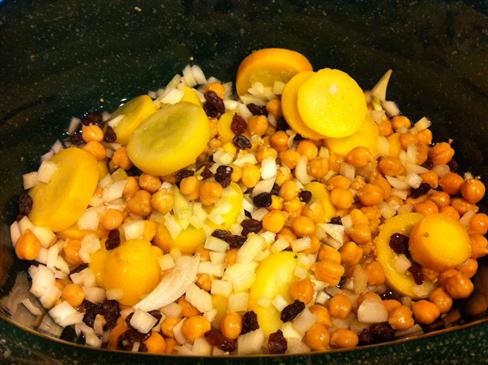 Cover and cook on low for 6-8 hours or until chicken is tender. Add tomatoes and olives during the last 20 minutes of cooking.
Remove chicken and vegetables to a serving platter; keep warm. Skim fat from cooking juices; transfer to a small saucepan. Bring to a boil. Combine cornstarch and water until smooth; gradually stir into cooking juices. Return to a boil; cook and stir for 2 minutes or until thickened. Serve with chicken, vegetables and couscous.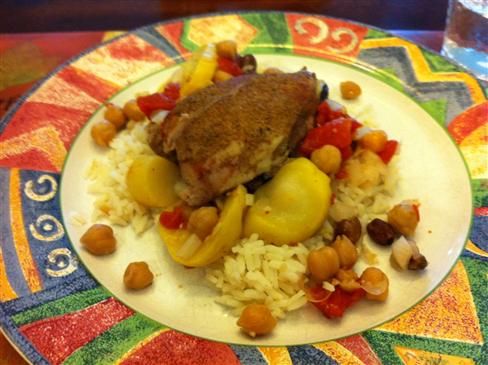 Do you like my fancy presentation? That's what it looked like in the magazine! We enjoyed the chicken rub most. I don't think I've used cinnamon on chicken before so that was different and yummy. I made only a few minor changes to the recipe. I used yellow squash instead of butternut because I bought it frozen and that was the only choice. I skipped the olives because I don't care for them. Obviously, I didn't use the cornstarch, I used arrowroot. And we had rice instead of couscous. When I make it again I think I would only do half a can of chickpeas, even though I like them they made it a little dryer. I would also double the amount of raisins, because I love raisins and they are so juicy when cooked.