Yesterday we had the special opportunity to meet another of our CF friends, Kaleb Bowers and his family. It is so much fun to get to meet people after getting to know them online. They read our blogs and we keep up with theirs, A little hope from Oklahoma. They were great and we had fun hanging out with them.
We first came to know the Bowers family about a year ago when Kaleb's mom, Kristi, came across and commented Jesse's blog (if we remember correctly). Jesse really connected with Kaleb when he found out Kaleb was going in for his forth sinus surgery, and he was going to have to be in the hospital for his 10th birthday. Jesse's heart really went out to Kaleb, knowing how not fun hospital stays can be. So we sent a little care package as an encouragement. Then when we found out Jesse would need his tenth sinus surgery Kaleb drew him a picture of a killer whale with all the killer whale facts that we hung on the wall during recovery. They've been friends and kept in contact since then.
Kaleb and his family were chosen by the Make-A-Wish foundation to have a fabulous vacation to Florida. They are getting awesome behind the scenes passes to Sea World, Univeral Studios, and some of the Disney parks. And since they are staying not to far from our house, we've been planning on being able to get together with them for months. So we drove over to the Give Kids the World resort they are staying at, which is so cool. It looks like the inside of Disneyland, it reminded me of Mickey's Toontown!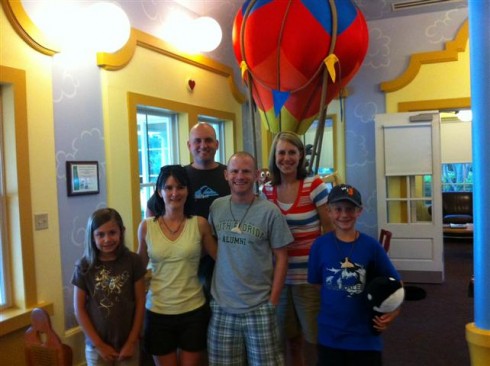 We met up with David, his wife Kristi, Kaleb's younger sister Hannah, and Kaleb! They were so sweet to bring us necklaces from their Sea World day. Mine is a pink orca that matches with Hannah's necklace. Jesse got an orca tale that matches Kaleb's necklace.
We were careful to follow our doctor's rule for meeting other CFers, especially with Kaleb's younger and healthier lungs. We kept the three foot rule and even brought masks so that Jesse could give Kaleb a hug. They said they were smiling, in case you can't tell.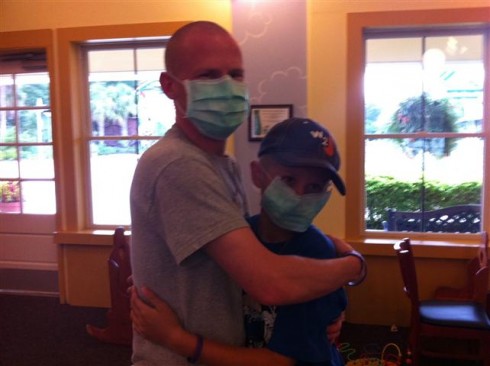 Then we all headed out to play some mini golf. Unfortunately, it was raining pretty much the entire time we were playing. Boo! I think it was the first time I've been cold during the summer in Florida. It was quite breezy and we were soaked. But we still had fun and it gave us a chance to get to know them a little better.
Then we all headed back to the Give Kids the World resort to dry off and get some ice cream. They have this cool ice cream shop that is always open for free ice cream. I heard Kristi tell the kids that vacation meant they could eat ice cream all the time. Two thumbs up for that rule!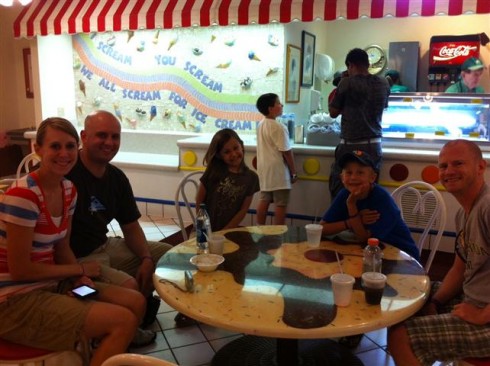 I know we will be keeping in touch with the Bowers family and hope that we will get to see them again some day. It means a lot to Jesse to be able to be an encouragement to a younger fibro. He always says he wishes he had known someone like that when he was a kid. What a great family, they are definitely very deserving of this vacation!!