Our relaxing weekend is off to a good start.  I got to leave work around noon to go straight to the airport.  We wanted to get there plenty early because we had never traveled with all of Jesse's medications and equipment.  A few of the aerosols require needles for mixing the powder with water, plus his big vest machine, and the many other pills and such.  We were worried they might need to check through everything.  They must be used to seeing that kind of thing because it didn't slow things down at all.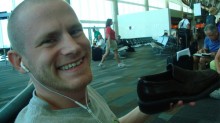 When we went to check in our bag, it was two pounds too heavy.  The guy asked if there was anything that we could easily take out.  Shoes were right on the top so we were going to move a pair of shoes into our carry-on.  When we took the first shoe out, that was enough to meet the weight.  Jesse was surprised that one of his shoes was that heavy.  So we kept laughing because everytime we needed to get something out of the carry-on bag we first had to take the one shoe off the top.  I wonder if anyone noticed we might need another shoe??
We made it to Columbus, Ohio safely and Grandpa and Grandma met us at the airport.  Turns out that Friday night is their dominoes night.  We grabbed a quick dinner at Wendy's then headed straight to their friend Eldora's house to play.  The rest of their group was already waiting for us to get there.  We like paying dominoes with Grandpa and Grandma, so that was fun.
Jesse and I were so tired from such a long day, he kept falling asleep between his turns by the end of the game.  As soon as the game was over the grandmas went to the kitchen to get dessert ready.  When they came back with the dessert and we were both passed out on the couch.  We didn't stay too long after dessert and when we got to the house it wasn't long before we were fast asleep.  Man, you just sleep so much better with the windows open for a cool breeze!