We are so excited that we finally got to see Jesse's expert opinion quote published in the new book Mom Blogging for Dummies, by Wendy Piersall. Jesse met blogger Wendy at a conference several years ago. We knew that she was going to publish the quote, but we weren't paying very close attention to when the book was coming out. The other night, we all of a sudden realized the book was out in stores. We decided to head down the street to the bookstore right away.
It took us a while to find the book because we were looking in the computer and blogging sections. Jesse finally went to look up the book in the kiosk to see if it could tell him more specifically where it was. As he did, I wandered into the next isle where we found it under business. I grabbed a copy and we headed to the comfy chairs to check it out.
I flipped straight to the index where we found his name and page number printed. Both names are even spelled correctly too!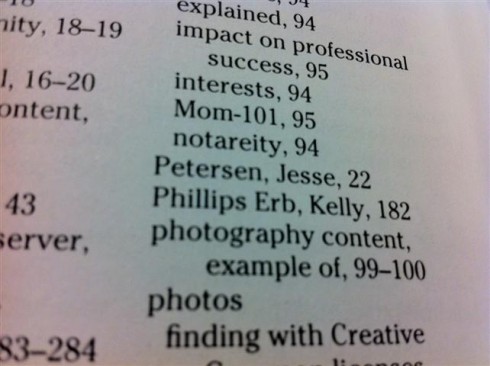 We went to page 22 where we found the quote from "WordPress Champion Jesse Petersen!" It also has our company name and website listed. Jesse's quote debated the importance of using WordPress as a blogging platform while the opposite viewpoint argues for Blogger. Wendy says she chose the two most extreme opposing viewpoints to print. It's really no surprise that Jesse has the most extreme quote in favor of WordPress. It's just too bad we don't get some kind of royalties or something for how much he promotes it all the time.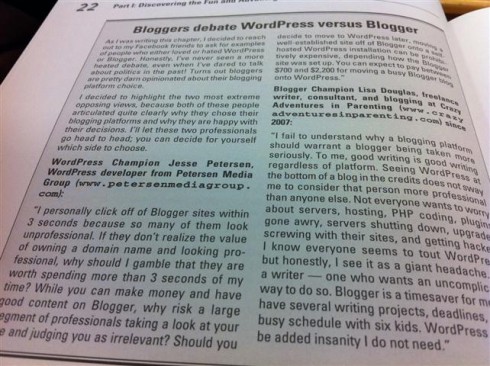 We spent quite a bit of time reading and re-reading his quote and taking pictures with the book. We are ordering a copy from Amazon, but we needed pictures until it gets here. Anyone watching us may have thought we wrote the book by how enthusiastic we were about it. It was just even more cool than we anticipated getting to see Jesse's name printed in a book for forever!
Be sure to check out the book the next time you're at the bookstore. You could even read more than just page 22, if you want to. Awesome!!