May is Cystic Fibrosis Awareness Month!
I wanted to introduce you to my friend Jamie. Jamie has CF and received her lung transplant over five years ago. We came across her blog, Jamiebug, some time ago and have been following her ever since.
I find this woman beyond inspirational! She is amazingly positive despite all that she has been through in her life. I love reading what she is up to and how much life her new lungs have given her. What I find just as inspirational is how her husband stuck by her and fought for her when she got so sick. What a testimony to their love and marriage vows!
I would encourage you to watch the video of her story if you'd like. Let me warn you… it is pretty hard to watch. Just make sure you are prepared for it, it might bring a few tears.
Jamie makes these fun and fabulous paracord bracelets to help offset the costs of her medical bills. She was nice enough to send me one, and I love it! Of course I picked purple for CF awareness, but she makes them in many different colors and patterns. I think her organ donation bracelet is pretty awesome too. Since they are all handmade by her, she can make just about any color combination you would desire. Check out some of her creations on her donation page and find out which colors you'd like to have.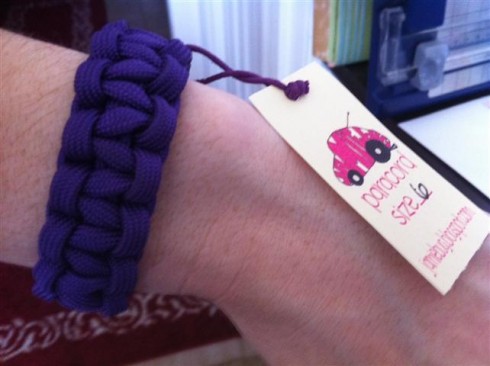 I feel lucky to have "met" Jamie and to consider her a friend. Thanks for considering helping her out by buying one of her bracelets.