I like my new french fry cutter from Bed, Bath & Beyond. I got a gift certificate to there for my birthday last month and this is one of the things I bought with it. Last week I made sweet potato fries and last night I tried it with regular potatoes. It had been quite a while since I've had fries and they sure were yummy.
The first time I used it I wasn't sure I was going to be all too happy with it because it was harder than I thought it would be to cut through the potatoes. I was pushing down on the handle so hard I thought I might break it. But this time I cut the potatoes in half lengthwise first and it worked much better having less surface area to cut at once.
Then I tossed them in some olive oil and spread them out on a cookie sheet. I added a little seasoning of salt, black pepper, and a little red pepper.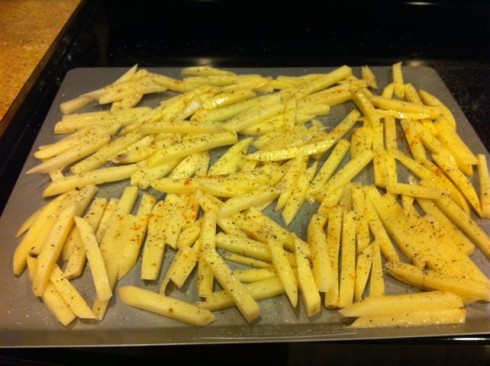 I think they turned out great. I just need to work on perfecting my oven temperature. With the sweet potatoes I had the oven at 350 for about 30 minutes and they seemed to be a little undercooked. This time I did them at 400 for about 40 minutes and they were better, but they weren't all very crispy even though they looked done. I guess we'll just have to keep eating fries until they turn out perfectly. Any suggestions?