Today is Mom's 50th birthday! I happened to be looking through my scrapbooks this week and was laughing at all the silly things we used to do.  Mom always had such creative and fun ideas to keep us entertained when we were kids (and now too).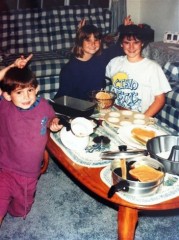 One thing that I remember very well was "funny dinner" and I have no idea why that is such a fond memory.  I think it mostly happened when Dad was out of town.  Maybe Mom was extra tired without Dad around and didn't feel like making dinner or maybe we were making her just a little nut-so.  But I remember that it was fun.  She would find the most unusual dishes to eat our dinner out of.  Looks like that night I was drinking my milk out of a muffin pan with a straw.  I tried to explain to Jesse why we liked "funny dinner" and it sounds ridiculous now, but we couldn't wait to see what Mom would come out of the kitchen with.  I still have funny dinner now, without the crazy dishes.  When I'm too tired to think of what to have for dinner I sometimes end up with sausage, rice, and an apple.  Now he can see where that came from.
This week were were watching a new TLC show called Outrageous Kid Parties.  These people spent over $30,000 on their son's 7th birthday party by hiring actors to play pirates, ordering costumes for everyone to wear, and went insane with the decorations.  I remember that one of my favorite birthday parties as a kid was my "purple pizza pool party!"  At the time, my favorite color was purple so Mom thought it would be fun to make everything at the party have to start with the letter P.  All my decorations were purple, we swam at the pool, and ate pizza.  Of course all my friends spent the night too and Mom came up with silly and fun games for us to play… and that's a party I still remember.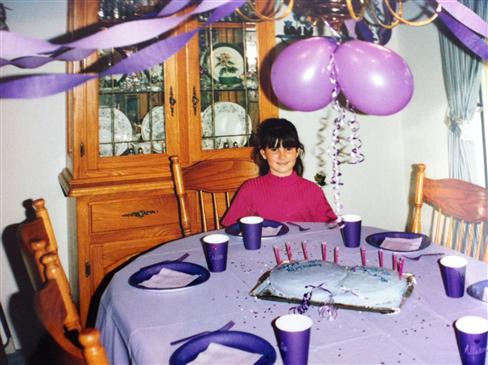 We are looking forward hanging out and celebrating with Mom this weekend.  I'm not sure exactly what all we will do, but it doesn't matter because she taught us how to have fun together no matter what we are doing.  It works out great because Ashley happens to be coming home this weekend because she is going to be a bridesmaid in a friend's wedding.  I know Mom will just love that everyone will be together… having fun.
Happy birthday Mom!  I hope you have a great day today, and a great family weekend.  I love you. 🙂