Official birthday dinners have become a tradition in our family. We always find a time when we can get together to celebrate each birthday as a family. (We missed Ash, who was unable to travel across the country to come for dinner. 🙁 ) When I was a kid, the best part about birthday dinner was getting to choose what Mom would make for dinner that night. I know there was more than one year that I chose homemade mac 'n cheese as my birthday dinner. That's kinda funny now that I think about it. With the freedom to choose anything I wanted, I picked a $4 meal that was something we had often. Sometimes when Mom made mac 'n cheese for dinner, she would make us have broccoli with it. As birthday girl, I wanted just mac 'n cheese… all by itself.
Dad's choice has always been a nicer meal. I think he almost always picks pork roast. So that's what Mom made him on Saturday night… pork roast with potato wedges and veggies. I had intended to take a picture of us sitting down for birthday dinner, but we were really hungry and the food was sooo yummy!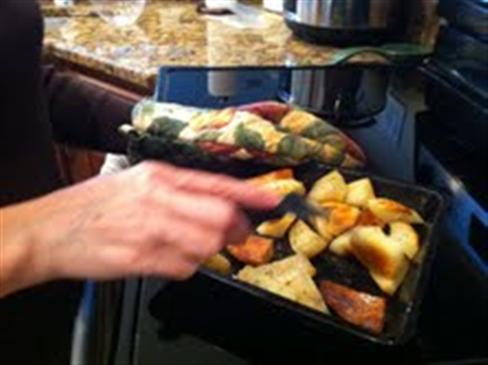 For dessert we had apple crisp. This has always been one of my favorites. Now, with my allergy issues, it is one of the few desserts that I am still able to enjoy. Mom dished out generous portions of crisp while Andrew offered ice cream to go with it.
Happy birthday Dad!! We love you and look forward to celebrating many more birthday dinners with you.