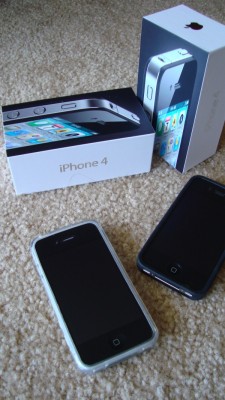 Jesse has had his heart set on getting us new iPhones since he heard they were coming out. But since I am such a non-spender, I couldn't see why we needed new phones. Then my phone died… completely. It wouldn't hold a charge for more than about twenty minutes. It wouldn't even last me my car ride home from work. No problem, we transferred the card out of this phone to one of Jesse's old phones. Only, that phone had such bad reception. I have been using it for about two months, but it wasn't working all that well, either.
Alright, maybe I did need a new phone. Jesse really needed one too. He uses his for work often and his old iPhone was working, but it was so slow. We finally agreed we would get them for our anniversary.
Then Jesse set himself a sales goal for the month and decided that if he reached that before our anniversary, we could get them early. Well, that was more than enough motivation for him. It is our anniversary month after all, isn't that close enough? We both got our new iPhones yesterday!!
He met me at the mall yesterday when I got off of work and he was so excited. He can barely contain himself when we go to the Apple store… and he actually gets to BUY something! Needless to say, we were pretty geeky last night. We were both setting up our phones, downloading apps, and trying out the cases we bought. Such romantic anniversary gifts. He is turning me into such a geek. We are so very happy with our purchases!