I have been on my allergy diet for quite some time now. I feel so much better avoiding all of the foods that we bothering me so much. However, I sure do miss the of the convenience foods we used to buy such as hamburger helper, sauce mixes, and especially snack foods. You know something can't be too good for you when the ingredients list takes up the entire side of the box. It's no wonder I felt crappy with all the crazy stuff that was in our food. I try to convince myself that my fresh and healthier alternatives are just as yummy, but the truth is… sometimes I need junk food!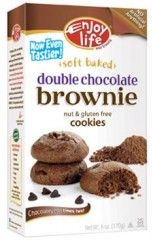 That's why I was so excited yesterday when I discovered Enjoy Life Foods. I was once again spending forever in the organic section looking for something new to try. The problem is that so many of the gluten free products use corn starch or some other form of corn. Enjoy Life cookies are free from wheat, soy, corn, milk, and eggs! I bought the double chocolate brownie cookies to try first. I was so eager to try them, I had one right after breakfast… very yummy! That was the first cake-y food I've enjoyed in months because I'm always so afraid of having corn syrup. I can't wait to try more of their products. My grocery store only had a couple of their cookie varieties, but I really want to try their snack bars. The only thing I've been able to have for snacks is fruit. I don't think this box of cookies will last too much longer! 🙂
The only disappointing thing about Enjoy Life Foods is that their products aren't for sale on their website.  I don't understand why they wouldn't want to sell directly to the consumer.  It would be a whole lot easier to order online and have the snacks shipped right to me than to have to drive around to different stores in my area to see which store carries each item.
**Update**  Enjoy Life Foods replied to my post with a link to where I could order online!  It's slightly cheaper than the store price too!