I ate cereal with my breakfast! I haven't been able to eat any cereal in months. I bought Enjoy Life granola a while ago, but hadn't tried it until now because I was afraid the milk would bother my stomach too much. I finally gave it a try and was fine with the small amount of milk.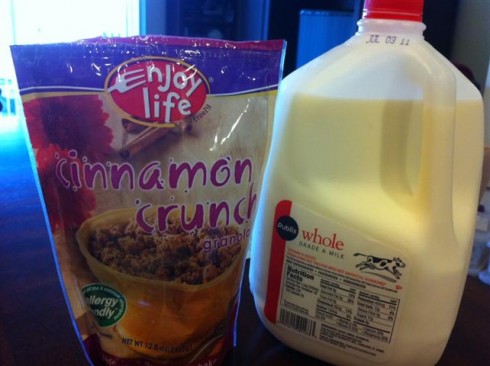 The granola is super yummy. I tried the cinnamon flavor first. It's very cinnamon-y, which is great! The main ingredient is brown rice flakes. And of course, all of their products are free from the top eight most common allergens so I know they are always a safe choice. I love their brand!
Being fine with the milk makes me think it's time to give some of my other allergens a try too. Supposedly, eliminating my allergens for six months will make me more tolerant to them again, as long as I have them in very small amounts. It makes me a little nervous to try the other foods again since I had more unpleasant reactions to them, but it sure would be nice to not have to worry so much when eating away from home. I'm getting close to six months now so we'll see.